US Foods Benefits From Three-Month Rebound in U.S. IPOs: Chart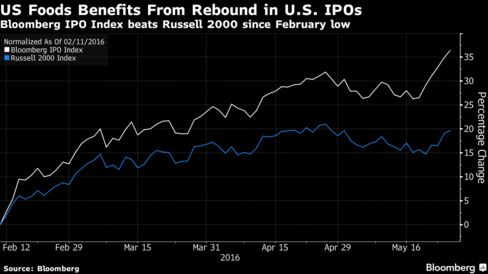 US Foods Holding Corp. had some help from the initial public offering market in making the biggest U.S. corporate debut this year. The Bloomberg IPO Index of companies in their first year of trading climbed 36 percent from its Feb. 11 low through Wednesday, when the food distributor sold $1.02 billion of shares, after falling 42 percent in the previous 15 months. The rally surpassed a 20 percent gain for the Russell 2000 Index, whose companies have market values similar to those of this year's IPOs.
Before it's here, it's on the Bloomberg Terminal.
LEARN MORE