Singapore Consumer Debt Shrinks for First Time in Decade: Chart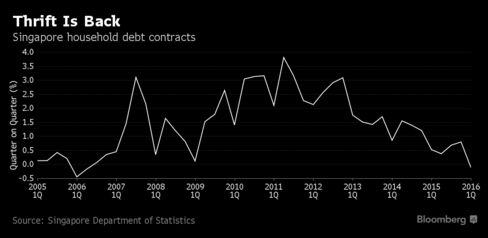 Consumers in Singapore are deleveraging for the first time in a decade. While debt has been growing at a slower pace since a 2011 peak, it contracted by 0.1 percent in the first quarter as households curbed mortgages and credit-card expenditure. With consumers paying down debt rather than spending and higher interest rates and tighter labor market conditions already hurting consumption, the scenario is a "bearish" one for the economy, according to Nomura Holdings Inc., which is forecasting 1.8 percent growth in the city state this year.
Before it's here, it's on the Bloomberg Terminal.
LEARN MORE