Marine Harvest Seeks Rare Buy Opportunities After Grieg Exit
Grieg Seafood's largest shareholder didn't want to sell stake

Industry needs consolidation to meet growing demand for salmon
Marine Harvest ASA, the world's biggest salmon producer, is looking for growth in a market that's reluctant to part with the valuable fish.
The Bergen, Norway-based fish farmer remains on the lookout for chances to consolidate the industry after it offloaded a stake in Grieg Seafood ASA that it was unable to convert into a takeover, according to Marine Harvest's Chief Executive Officer Alf-Helge Aarskog.
"We tried for a long time -- almost two years to get it done," he said in an interview in Oslo on Thursday. "Our goal was no doubt to take over the company, but we couldn't make it because the largest owner didn't wish to sell."
Marine Harvest sold its 1.15 billion-krone ($139 million) stake in Grieg last week. It's now up to the board to decide what to do with the profit of about half a billion kroner, Aarskog said.
Shares fell as much as 1.7 percent in Oslo trading and were down 1.2 percent at 137.10 kroner as of 10:17 a.m. local time. The stock has risen 17 percent year to date.
While the fish farmer is benefiting from record high salmon prices, the industry needs consolidation to meet a growing global demand for healthy proteins. Markets in the U.S. and many in Europe are strong, with salmon prices last week reaching 7.51 euros ($8.40) a kilogram (2.2 pounds), according to Fish Pool ASA.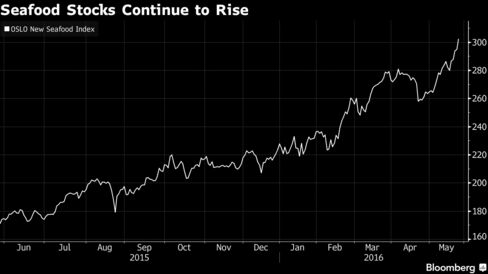 The rally in prices has fed through to aquaculture stocks, which have surged about 77 percent over the past year, according to an index of seafood companies listed on the Oslo stock exchange. That saw billionaire John Fredriksen, Marine Harvest's largest shareholder, sell part of his stake for $510 million in March in a move that was interpreted by some as indicator that share prices may have peaked.
Companies owned by Chairman Ole-Eirik Leroey followed suit earlier this month with a sale of 1.1 million shares, while the CEO also sold 100,000 shares. The executive's sale was a rebalancing and he's not planning on selling any more shares.
"Marine Harvest is still my largest investment," Aarskog said on Thursday. "I have a big belief in the company."
As producers try to make the most of high prices by expanding output, they have to contend with sea lice, infectious salmon anemia and algal blooms. An algal bloom in Chile and poor results in the region have led Marine Harvest to announce in April as many as 500 job losses. More than 300 have been cut so far and the process is ongoing, Aarskog said.
Producers in Norway, which exported 4.9 billion kroner of salmon in April, are also seeking to minimize the biological impact of rising volumes.
"The problem now is to meet demand with enough products," he said. "We work with that. We try to gradually create a little bit more growth within a sustainable frame."
Before it's here, it's on the Bloomberg Terminal.
LEARN MORE