Junk Bond Creditors Stricken in Norway Cry Foul as Banks Spared
Alfred Berg says BB rated debt now looking expensive

Sparinvest says market now waiting for bigger restructurings
Norwegian junk bond investors have had their fill.
They've borne the brunt of a slump in oil-service companies that followed the collapse of crude prices. Now, as more and more companies try to restructure their obligations, exchanging equity for debt, creditors are asking why shareholders and banks aren't sharing their pain.
"We have nothing against equity as long as it makes sense,"' said Tom Hestnes, a portfolio manager who oversees 6 billion kroner ($727 million) in bonds at Alfred Berg. "But in Norwegian restructurings there's an imbalance between equity, bonds and banks. Banks and equity find some solutions and say to bondholders: You need to eat this."
Norway's junk bond market, Scandinavia's biggest, has come to a near standstill amid growing defaults triggered by the plunge in crude prices. Stalwarts such as Seadrill Ltd., the oil-rig company controlled by billionaire John Fredriksen, are still facing restructurings to deal with a shortfall in revenue as explorers cut investments and exploration.
The market is now recovering after bond prices hit rock bottom. Due to credit downgrades, the relatively few remaining BB rated bonds are starting to look expensive, according to Hestnes.
The DNB High Yield Total Return Hedged Index has risen 7.6 percent from a low on March 2, buoyed by a rally in crude prices.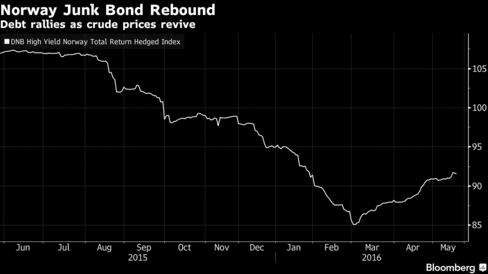 Alfred Berg has been selling bonds to tap demand in the rally, including debt from Aker ASA, Stolt-Nielsen ASA and Bonheur, he said.
"And we've bought some secured credits," he said. "It's a bit richly priced at the moment -- at least BB. Driven by small inflows, few redemptions, no new issues. It's both a liquidity squeeze and the fact that people must increase BB to have average credit according to mandates."
While the worst may be over, the market will never be the same, according to Maciej Woznica, chief portfolio manager at Sparinvest, who has 2 billion euros ($2.2 billion) in bonds under management.
Investors facing a wave of bankruptcies and restructurings stemming from the collapse in oil prices have once again learned some valuable lessons in how to lend their money to oil service companies -- an industry often prone to booms and busts.
"The bond market will change, less unsecured financing as simple as that," he said. "It will be there as an alternative funding."
The market is now bracing itself for bigger restructurings from Seadrill after defaults from companies such as Polarcus and Dolphin.
The question is who will get the short end of the stick in those negotiations.
"Some of the worst times are behind us from a bondholder's perspective," Woznica said. "I don't know about the banks, but the bondholders have taken their pain."
Before it's here, it's on the Bloomberg Terminal.
LEARN MORE