Japan's Renewables Incentives Power Output From Sun, Wind: Chart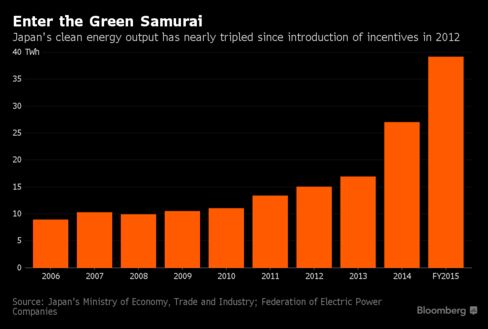 Japan's clean energy output, excluding hydropower, increased 45 percent to 39.2 terawatt hours in the 12 months ended March 31 compared with a year earlier, according to data released this week by the Ministry of Economy, Trade and Industry. The gain comes after the introduction of feed-in tariffs in July 2012 that boosted installations of clean energy, especially solar. While Japan derived 4.7 percent of its electricity from renewables such as solar, wind and geothermal last fiscal year, the government aims for it to rise to about 14 percent by 2030.
Before it's here, it's on the Bloomberg Terminal.
LEARN MORE