Instinet Europe Chief Steps Down to Eye Financial Startup Scene
Adam Toms had been CEO of European brokerage for four years

Broker was spared from Nomura's cull of European operations
The chief executive officer of Instinet Inc.'s European arm, a top-ranked equity broker in the region, is leaving to pursue opportunities in the burgeoning financial-technology scene.
Adam Toms, 39, the chief executive officer of Instinet Europe Ltd. for four years, will be succeeded by Richard Parsons, the unit's head of sales and trading, according to a statement on Thursday.
"I see so much change in the marketplace, opportunities emerging, I feel like now is the time to hand over the baton to Richard who has been my right-hand man for the last four years," said Toms. "We've progressed in growing market share over the last four years. Profitably has also increased over that period."
Instinet is an agency broker, meaning it crosses customer orders and doesn't take risk with its own money. Instinet was the third-largest European equity broker last year, according to Markit Ltd. It was ranked fifth in 2014 and seventh in 2013.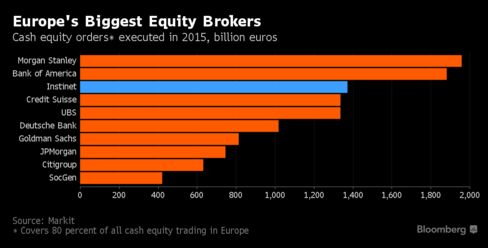 The CEO's departure follows parent company Nomura Holdings Inc.'s decision to shut its European equity business. Instinet Europe's equity execution service was spared from the cull. Bloomberg reported in April that the Tokyo-based firm would close equity research, trading, sales and underwriting in Europe after years of failing to make a profit overseas.
For the story on Nomura closing some European operations, click here.
Toms said his departure isn't related to the recent changes at Nomura.
"There has been no impact for Instinet Europe following the latest Nomura announcement," he said. "We're operating independently."
Instinet doesn't expect its strategy to change course when its leadership changes. The brokerage is betting it will get a competitive advantage from European Union regulations that separate payments for research from payments for execution.
Fund managers typically pay their brokers a single fee -- the trading commission -- for research and trading. Critics say it's difficult to tell how much the customer is spending on each service. Regulators want to make those costs more transparent by separating the payments. The change is part of an EU overhaul of financial regulations called MiFID II.
Instinet provides a service called the commission-sharing arrangement, or CSA. These arrangements allow money managers to direct their brokers to transfer money to a third firm to pay for research.
"There's never been more interest in CSAs and we see that continuing," said Parsons, who joined Instinet in 2002 as a U.S. equity sales trader. "Going forward, where execution is going to be valued competitively and independently, we think we're ahead of that game in terms of helping clients."
Before it's here, it's on the Bloomberg Terminal.
LEARN MORE