Chile's Peso Leads Gains in Emerging Markets on Copper Strength
Metal recovery is triggering dollar stop losses, trader says

Copper rises on speculation world to cope with Fed rates hike
The Chilean peso led gains among emerging-market currencies as a rally in copper, the nation's top export product, bolstered the outlook for overseas sales.
The peso rose 0.8 percent to 685.71 per dollar at 12:05 p.m. in Santiago, its strongest level in 2 weeks. Copper, the metal used in pipes and wiring, has risen 7.7 percent from a low in January.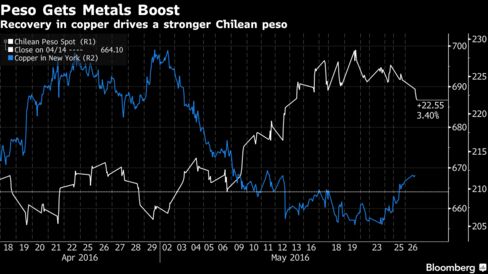 Chile, the largest copper-producing nation, sees prices poised to rise by about a third over the long term on growing demand from China, where power generation accounts for almost half of the metal's usage. Copper may average $6,330 a ton after 2018, according to the Chilean Copper Commission. The metal has averaged about $4,710 a ton so far this year on the London Metal Exchange. The rally in copper has triggered sales of U.S. dollars to limit losses, lifting the peso, according to according to Fernando Montalva, a trader at Itau Corpbanca.
With copper at those levels, it didn't make sense for the peso to remain weak," Montalva said from Santiago. "The copper rally is now activating more stop losses."
For more on predictions for a new wave of cooper demand, click here.
Copper prices have also increased in the last three days and the metal is headed to its first weekly gain this month amid speculation that the world economy will be able to cope with the impact of higher U.S. interest rates.
Before it's here, it's on the Bloomberg Terminal.
LEARN MORE