Big Oil Sticks to What It Knows as Green Investors Regroup
Resolutions to turn exploratory cash over to investors fail

Exxon has plans to tap equivalent of 20 billion barrels
The largest U.S. oil explorers are plowing ahead with some of the most ambitious drilling projects in the 157-year history of the industry even as dissatisfied investors vow to continue their fight against fossil fuels.
Shareholders of Exxon Mobil Corp. and Chevron Corp. overwhelmingly rejected resolutions on Wednesday backed by environmental activists that would have curtailed exploration for new oil fields and distributed the cash in the form of higher dividends and share buybacks.
Despite increasing calls for more climate-friendly policies among activist stockholders, Exxon Chairman and Chief Executive Officer Rex Tillerson said the company is proceeding with more than 100 major oil and gas developments in various stages of planning or construction that will eventually tap the equivalent of 20 billion barrels of crude -- enough to supply every refinery in the U.S. for more than three years.
Chevron may formally authorize within weeks the $37 billion expansion of the Tengiz oil field, one of its single most-important assets, Kanat Bozumbayev, Kazakhstan's energy minister, said in an interview. The central Asian country is home to the sprawling field as well as more than one-fifth of Chevron's global crude reserves.
Although both companies have reduced drilling budgets to cope with the slump in energy prices and see renewables playing a bigger role in future years, executives insisted demand for crude-derived fuels will continue to expand, led by growth in countries such as India.
"We need technological breakthroughs but until we have those, just saying 'turn the taps off' is unacceptable to humanity," Tillerson said during Exxon's gathering in a Dallas symphony hall on Wednesday. "There is no alternative fuel known in the world that can replace the pervasiveness of fossil fuels."
No Votes
The "no" votes on the anti-exploration resolutions reached 96 percent at both companies, where other climate-related proposals also failed. Environmental critics as diverse as state pension funds and Roman Catholic religious orders said future climate rules will soon make it unprofitable for Exxon and Chevron to harvest their reserves.
At Chevron's gathering in San Ramon, California, holders rejected the anti-drilling measure for a second straight year. Chairman and CEO John Watson decried the proposal, saying it "suggests we liquidate the company by paying dividends. Of course, we don't think that is the proper action to take."
Such environmental appeals have become regular features of Exxon and Chevron annual meetings.
"We recognize the risks are serious and do warrant thoughtful actions," Tillerson said during the meeting. "On a policy front, we believe addressing the risks of climate change is a global issue."
Any solution ought to be market-based, transparent and accompanied by minimum bureaucracy, he said.
This was the first time Exxon stockholders weighed in on such a resolution. Four climate-change resolutions were on the ballot this year -- up from two in 2015 -- and none received more than 38 percent support in Wednesday's vote.
Chevron investors considered five proposals related to climate change, none of which received more than 41 percent support.
'Real Rebuke'
"Given the significant resources Exxon spent fighting this proposal, such a strong vote is a real rebuke to company management," Andrew Logan, director of oil and gas programs at Ceres, a nonprofit advocacy group that advises money managers in climate issues, said in an e-mailed statement. "Moving forward, investors expect Exxon and Chevron to come to the table and collaborate to prepare meaningful disclosures to assess the risks and opportunities presented by the energy transition."
Exxon and Chevron have maintained or raised dividends even as the two-year slump in oil markets eroded cash flow and forced much of the industry to curtail payouts, slash payrolls, cancel projects and tap capital markets for borrowed money to stay afloat. Exxon was stripped of its top rating by S&P Global Ratings last month for the first time since the Great Depression.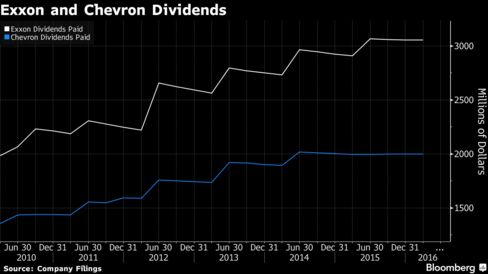 Exxon is scheduled to pay out $3.3 billion in quarterly dividend payments next month. Chevron's obligation for the quarter is about $2 billion based on figures compiled by Bloomberg.
Tillerson, who will reach Exxon's mandatory retirement age of 65 in March, reiterated at the meeting that the company's primary goal is maintaining "a reliable and growing dividend." The company spent $15 billion on dividends and buybacks in 2015, he said.
Tillerson declined to say whether he would seek permission from the board to stay on beyond his 65th birthday. "I serve at the pleasure of the board," he said.
Before it's here, it's on the Bloomberg Terminal.
LEARN MORE