Argentina Credit-Default Swaps Return Following Record Bond Sale
Swaps were last triggered in July 2014 after second default

At least two entities are selling the CDS, according to CMA
Argentina is now creditworthy enough that investors are willing to sell insurance on its debt.
The country's return to global capital markets took another step forward this week when credit-default swaps, which investors use to speculate on a borrower's ability to repay debt and hedge against losses, were quoted Wednesday for the first time since they were settled in September 2014 following the country's second default in 13 years.
The contracts were quoted at 435 basis points as of 1:21 p.m. in Buenos Aires, according to prices compiled by CMA, meaning a buyer would pay about $435,000 to insure bonds with a face value of $10 million. The price is in line with the cost of insuring debt from El Salvador, which is rated two steps higher by S&P Global Ratings, and compared with 354 basis points for Brazil, the region's largest economy.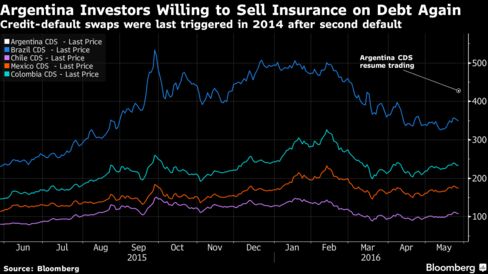 "Going forward, Argentina spreads should fall and approach those of Brazil," said Joaquin Almeyra, a fixed-income trader at Bulltick LLC. "There's plenty of room for spreads to compress further."
Argentina sold $16.5 billion of overseas bonds last month, a record for a developing nation, returning to the international market for the first time in 15 years after reaching a settlement with creditors the country defaulted in 2001. Argentina's CDS were last triggered almost two years ago when a U.S. judge's ruling barred it from servicing its debt without resolving the dispute, and sellers of the contracts had to pay $532 million.
CMA started quoting prices for the credit-default swaps on Wednesday after receiving data from at least two sellers, according to Jav Bose, the head of CMA content and analytics. Argentina is not among the top 1,000 entities captured by the Depository Trust & Clearing Corp.'s central registry for the default swaps market.
Before it's here, it's on the Bloomberg Terminal.
LEARN MORE