It's Monday night in Midtown, and four women in summery office attire are swiping left and right between bites of bone marrow and snails on toast, dragging rare, dry-aged beef through sticky red wine sauce and butter-saturated mashed potatoes. It's steak night at American Cut.
It would be weird if it weren't steak night at American Cut, an expensive, beefy chain with a handful of locations from Puerto Rico to New Jersey, that opened a new dining room with more than 130 seats this past March.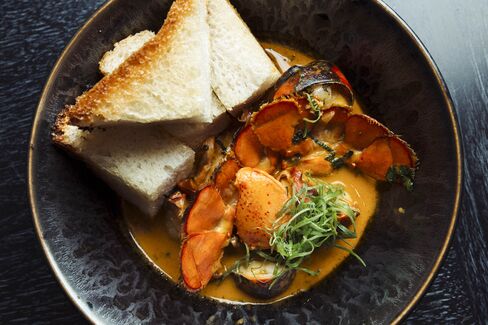 Marc Forgione is a partner, the executive chef, and face of the brand. Forgione, who gained national fame when he won season 3 of The Next Iron Chef, also owns his eponymous restaurant in Tribeca and co-owns a Khe-Yo, a Laotian place nearby. Though he cooks contemporary American food, his signature dish is chili lobster.
While it's usually advisable to skip heavy appetizers at a steakhouse and focus your attention on the main event, the chili lobster at American Cut is worth your time. It's not a new dish; Forgione has been serving it in Tribeca for years (and it's the theme behind his sandwich shop in the Pennsy). The dish is vaguely informed by chili crab, the kind you'd eat in Singapore with some soft buns but made here with less heat and more lobster meat, which is, inexplicably, sometimes served warm, sometimes cold. The sauce gets its kick from Sriracha, thinned out with plenty of butter and lobster stock. And instead of those buns, you're offered crisp, thick slices of white toast to rip and dunk.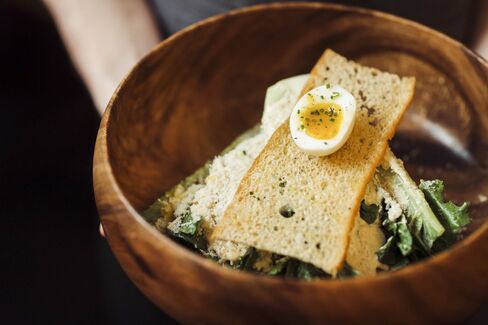 You'll need to use your hands to break up some of the shells, and if you're doing it right you'll also need that bowl of lemon water at the table to clean your fingertips afterward. Like many of the tastier things on the menu, it isn't exactly traditional steakhouse fare, but it's a much more enjoyable way to kick off dinner than the plainer, sadder seafood tower, with its whiffy tuna tartare, unseasoned periwinkles, and overly sauced shrimp cocktail.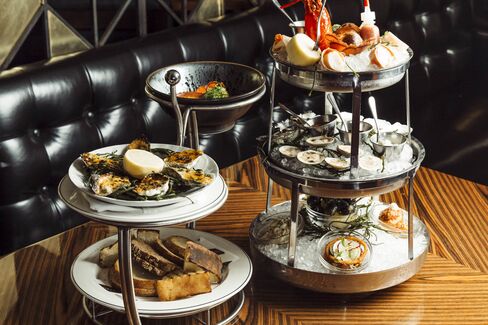 The steakhouse serves halibut under a ultrafine layer of pastry and a decent chicken in garlic butter, but of course there's a joint of beef on every table, deeply seared, with a pitcher of herb butter or bearnaise and a cone of crisp, salty fries cooked in beef fat. Whether you order the rib-eye or the strip, the beef comes via Creekstone Farms, a Kansas-based operation, and is aged in New Jersey by Pat LaFrieda.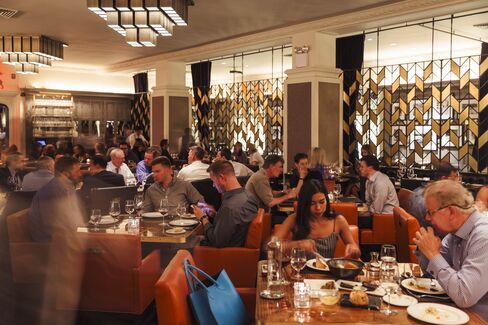 With its high prices and dark, faux Deco swank, American Cut's midtown dining room can seem more modern, and more self-consciously fancy, than some of the other steakhouse chains in the neighborhood, such as Bobby Van's, Wolfgang's, or Smith & Wollensky. The restaurant tends to attract suits for both lunch and dinner and is often filled with groups of men with shiny white heads and shiny white shirts, carving up perfectly cooked strip steaks and rib-eyes, clapping each other on the backs. It would feel like a clubhouse if the staff weren't so sprightly and friendly.
Tara Glick is the pastry chef, and everyone will want to order her crackerjack sundae, a tall glass of caramel popcorn and popcorn ice cream scattered with peanuts. It's delightfully simple and sweet. And although the candy bar cake isn't nearly as satisfying as it sounds, a vapid wand of chocolate, the cheesecake makes up for it. It's wonderfully light and airy, with an almost invisible Graham cracker crust under a hot pink Campari and rhubarb glaze.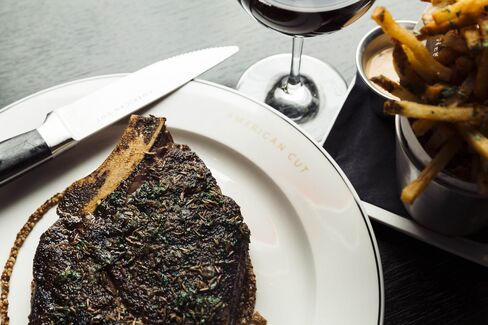 The restaurant has the corporate, glitzy look of a midtown hotel restaurant, but it's connected to the Lombardy by a side entrance and nothing more. If you come in from 56th Street, the pitch black carpeting that leads you to the host stand is always littered with random bits of trash—browning flower petals, bottle caps, an olive, a rubber band. And is that a shake of glitter? Yeah, someone's been having a good time.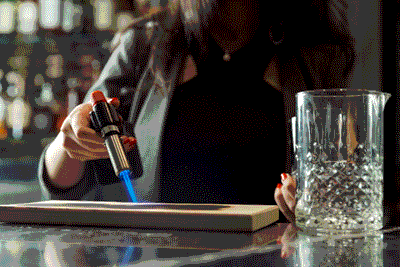 American Cut is at 109 E 56th Street (Midtown); (212) 388-5277 or americancutsteakhouse.com
Rating: One Star (Good)
What to Order: Chili lobster ($34); NY strip ($45); Tomahawk rib-eye ($145); Beef fat fries ($12); Sunchoked spinach ($12); Potato puree ($12); Grilled Vidalia onions ($12)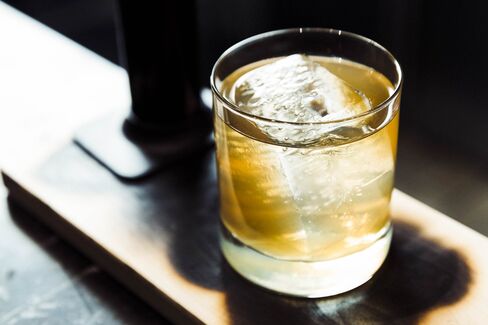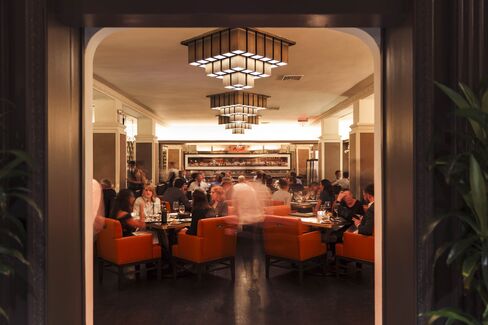 (
Corrects name of pastry chef in 8th paragraph.
)
Before it's here, it's on the Bloomberg Terminal.
LEARN MORE