Ackman Dangles Meeting With 'Hamilton' Star for Rapper Scientist
Pershing Square Sohn prize goes to seven cancer researchers

DNA rhymes also heard at Alan Alda World Science Festival fete
The Park Avenue Armory presents some interesting theater, but it's never seen anything like the Wednesday night performance by Christopher Mason, an associate professor of computational genetics at Weill Cornell Medicine.
Standing in front of the Tiffany blue-glass mosaic in the Armory's Veterans Room -- recently restored at a cost of more than $8 million -- Mason rapped in honor of the 2016 presentation of the Pershing Square Sohn Prize for Young Investigators in Cancer Research.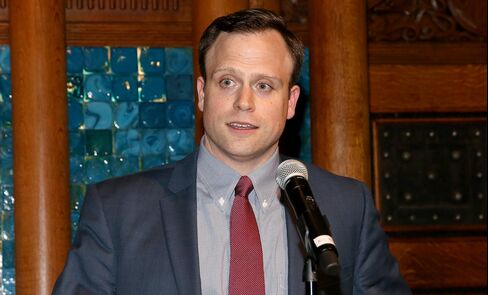 "Like Aristotle gives philosophy, these models reveal radiation oncology," Mason rhymed, before taking aim at cell checkpoints, "precariously shifting states, endlessly nefarious as they ablate the orderly procession of lineage fates." Mason also described "splitting, conscripting, and hitting mutant RNAs with new therapeutic forays."
Pershing Square Capital Management's Bill Ackman immediately rose to show his appreciation.
"The really sad thing is we're going to lose him to Broadway," Ackman said, before suggesting he could make it happen. "Actually, I know Lin-Manuel," he said of the star and creator of the musical "Hamilton," indicating just how helpful a well-connected and philanthropic hedge fund manager can be.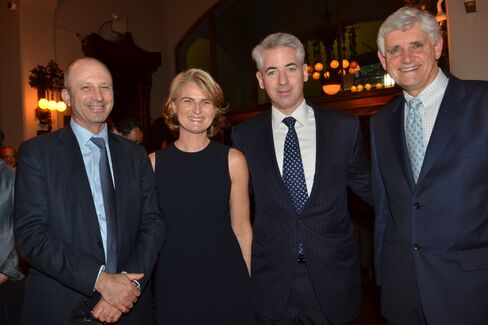 Ackman has a vested interest in keeping Mason in the lab. He and his wife, Karen, are primary funders of the prize, which gives $200,000 a year for up to three years to young scientists in New York.
In addition to Mason, this year's winners are Omar Abdel-Wahab and Andrea Ventura, whose labs are at Memorial Sloan Kettering Cancer Center; Uttiya Basu at Columbia University; Agnel Sfeir of New York University School of Medicine; Samuel Sidi of Icahn School of Medicine at Mount Sinai, and Christopher Vakoc of Cold Spring Harbor Laboratory.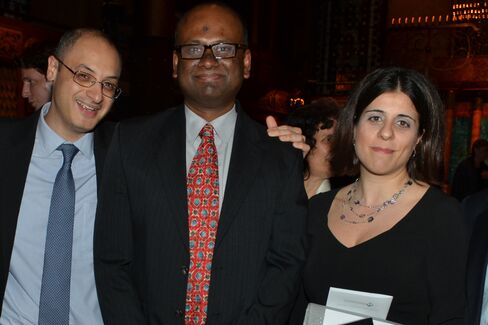 The prizes are now in their third year, with New York Community Trust joining as a funder of one of the awards. They are presented by an alliance of the Pershing Square Foundation and the Sohn Conference Foundation, founded after Wall Street professional Ira Sohn, who died of cancer.
Ackman has presented ideas at Sohn investment conferences for years, and he had one at this event too: teach scientists how to rap. It could be a useful tool for fundraising, he said.
That's such a good idea, someone is already doing it. Well, almost. The Alan Alda Center for Communicating Science at Stony Brook University School of Journalism conducts workshops for scientists in improvisation and presentation skills. It received its own tribute Monday night at the World Science Festival gala, in the Appel Room at Jazz at Lincoln Center.
The opening number took its cue from "Guys and Dolls." "What's happ'ning at Stony Brook? I'll tell ya what's happ'ning at Stony Brook... Improvisational acting for young scientists," the song went. "If a smarty-pants starts using jargon and guff, Alda's there to clarify by calling his bluff."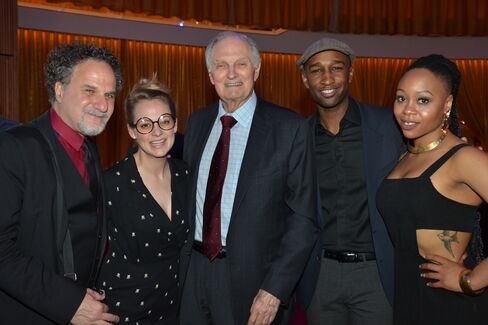 The closing number took its cue from "Hamilton" and saluted the actor famous for his role on "M*A*S*H" before turning to educational endeavors: "Alan Alda has a plan -- explaining science to the common man."
One thing remains certain after both events: Helping young scientists may be easier than securing tickets to the show.
Before it's here, it's on the Bloomberg Terminal.
LEARN MORE