London Population Growth to Far Outpace Rest of U.K.: Chart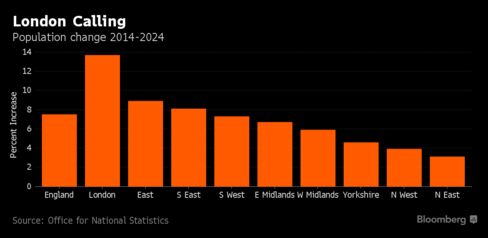 London is projected to add 1.2 million inhabitants in the 10 years to mid-2024, with international migration accounting for much of the increase, according to projections published on Wednesday. The 14 percent surge is almost double the pace projected for England as a whole and would take the population of the British capital to just under 10 million. The figures are likely ignite the debate over the upcoming Brexit referendum, with campaigners for leaving the European Union arguing that uncontrolled immigration is putting excessive pressure on housing, schools and hospitals.
Before it's here, it's on the Bloomberg Terminal.
LEARN MORE