Emerging-Market Reversal Raises Ominous Signs for Rest of World
Selloffs in developing nations spilled over globally last year

Bank of America sees parallels in recent market divergence
The selloff in emerging-market assets may be a sign of things to come globally, if recent history is a guide.
MSCI Inc.'s developing-nation stock index has dropped 4.7 percent since April 30, after rallying more than 13 percent in the previous two months. Currencies are on pace for their biggest slump in nine months. Those declines stood out as oil prices rose toward $50 a barrel, junk bonds rallied to the highest in 10 months and the Standard & Poor's 500 Index recouped its losses for the year.
In both January and August 2015, selloffs in emerging markets quickly spread across the world, wiping out more than $11 trillion in global stock valuation. The slumps were triggered by concern that China may devalue its currency and compounded by signs that the U.S. economy was slowing.
Strategists at Bank of America Corp. are seeing some parallels and assessing whether the slump in developing nations will sully the broader rebound.
"We are seeing the same decoupling between U.S. and emerging-market stocks that turned out to be a leading indicator for the decline in U.S. risk assets in August last year and again in December and January this year," credit strategists led by Hans Mikkelsen wrote in a research note Wednesday. "Follow 'EM or lead 'EM? That's the question."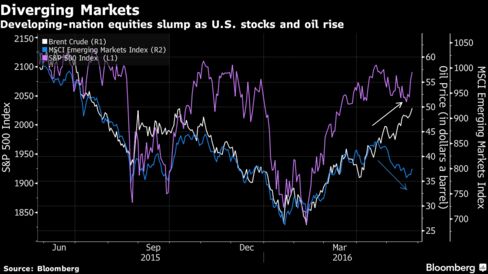 The risks that triggered the previous selloffs are now somewhat diminished. China has stabilized the yuan market. While the currency fell to the weakest level against the dollar since February, there are few signs of stress in the derivatives market.
The U.S. economy also has regained some vigor after barely growing in the first quarter. The rise in oil prices also has alleviated the default risk in the energy sector, which makes up a big chunk of high-yield bonds.
The reversal in emerging markets underscores other issues.
Growth momentum in China, which buys everything from Korean-made cars to South African minerals, has petered out since April following a credit-fueled rebound. The debt that Chinese companies accumulated over the past year is increasingly a drag on the economy as a record 10 firms failed to make payments this year.
The Federal Reserve is signaling that it could raise interest rates as soon as next month, helping to strengthen the dollar and making it more difficult for developing nations to reduce borrowing costs to shore up growth.
Capital Flight
While U.S. stocks have rallied 2 percent since May 18, when Fed minutes highlighted the possibility of an interest-rate increase, money has poured out of emerging markets. In the three weeks through May 20, traders pulled a net $4.86 billion from ETFs that invest in developing-nation assets, putting them on track for the biggest monthly outflow since last August's $6.13 billion decline, according to data compiled by Bloomberg.
The capital outflow threatens to derail growth in developing nations, which may eventually drag down economies elsewhere.
"The pillars that supported the EM rally earlier this year seem to be crumbling," Morgan Stanley strategists led by Gordian Kemen wrote in a research note this week. "Our outlook on the asset class remains bearish and increasingly so."
Before it's here, it's on the Bloomberg Terminal.
LEARN MORE