Hungarian Central Bank Rebuffs Easing Bets With No Cuts in Sight
Central bank signals no change in policy for extended period

Authorities may tweak interbank rates if further easing needed
Hungary's central bank rebuffed speculation it will extend an easing cycle by tinkering with interbank rates and said policy makers will only resort to unconventional means of influencing monetary conditions should the need arise.
The regulator is comfortable with the level of the benchmark rate and is seeking to keep rates unchanged for as long as possible, Deputy Governor Marton Nagy said. If a change in the inflation outlook does necessitate fine-tuning, the National Bank of Hungary will look to other measures, he said. Those may include building on steps that were designed to push liquidity from central bank instruments into the bond market or an adjustment of interbank rates, Nagy told reporters in Budapest on Thursday.
The central bank announced an end to a three-month rate-cut cycle on Tuesday, pointing to diminished risk of second-round effects from excessively low inflation expectations. With April marking the first acceleration in inflation this year amid a rebound in crude oil prices, the central bank expects price growth to approach its 3 percent target in the first half of 2018.
"Monetary conditions are exactly in the right place," Nagy said. "There is no need for any further monetary steps, neither conventional, nor non-conventional."
Banks including UniCredit Bank AG, JPMorgan Chase & Co. and OTP Bank Nyrt. had predicted policy makers will next tinker with interbank, or Bubor, rates to affect monetary policy after they cut the benchmark rate by 15 basis points to a record-low 0.9 percent.
"The new strategy would give more flexibility to the central bank at the cost of increasing money market volatility and also reducing the relevance of the base rate," said Nicolaie Alexandru Chidesciuc, an analyst at JPMorgan in London.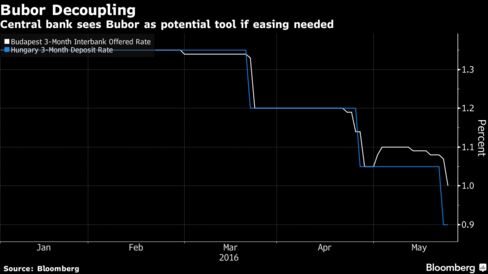 Analysts reasoned that a shift to the interbank market would give rate setters more direct influence over borrowing costs on several trillion forint in loans. With the room to maneuver narrowing as the base rate nears zero, the switch would also provide a way to affect policy for one of eastern Europe's most activist central banks, which has stepped in to quash toxic foreign-currency loans, offered cheap credit to smaller businesses and raised domestic ownership of Hungary's government debt.
The three-month Bubor fell for a second day, dropping seven basis points to 1 percent on Wednesday.
Bubor will fall to 20 to 30 basis points below the benchmark rate as policy makers push lenders to move cash to the interbank market, according to analysts at OTP, Hungary's largest bank. JPMorgan expects interbank rates dropping toward the level of the overnight deposit facility, which stands at minus 0.05 percent. Both banks confirmed their view after Nagy's comments on Thursday.
Policy makers are "tightly" monitoring the interbank market, Daniel Palotai, an executive director at the central bank, said in an interview on Wednesday. A planned review of the Bubor market in September is unrelated to the monetary policy stance, Nagy said.
Before it's here, it's on the Bloomberg Terminal.
LEARN MORE