China Tries to Mend Fences as Vietnam Cozies Up to U.S.
Senior Chinese, Vietnamese officials hold cross-border meeting

China looking for friends as ASEAN nations move closer to U.S.
China has played down this week's decision by the U.S. to lift a decades-old ban on lethal arms sales to Vietnam, as it looks to avoid further aggravating bilateral relations already strained by territorial disputes in the South China Sea.
The day after U.S. President Barack Obama expressed his desire to begin a new era of closer economic and military ties with Vietnam, vice-foreign ministers of China and Vietnam met Tuesday in a border province in China to discuss possible bilateral cooperation and their mutual relationship in general.
"China and Vietnam are friendly neighbors connected by mountains and rivers," said Chinese Foreign Ministry Spokeswoman Hua Chunying at a press conference Tuesday. China, Hua said, was willing to work with Vietnam to implement a range of legal agreements "to elevate boundary management and cooperation and take bigger strides to develop China-Vietnam relations."
The discreet meeting between the vice-ministers suggests that Beijing is eager to reassure the Vietnamese that the two Communist nations should put their shared interests above their dispute over who owns what in the South China Sea, especially as the Obama Administration further pivots the U.S. toward Asia and offers more support to Association of Southeast Asian Nations countries concerned about China's expansion.
Commenting on the U.S. decision to lift its ban on the sale of lethal weapons to Vietnam, Hua said repeatedly Tuesday that China welcomed "the development of a normal relationship between the U.S. and Vietnam" and expressed hope that it would be conducive to regional peace and stability.
Such a measured response represents progress diplomatically, said Zhang Mingliang, a professor at the Southeast Asia Research Institute at Jinan University in Guangzhou, but the prospect of a strong U.S.-Vietnamese partnership would be even more worrying to Beijing than the U.S. alliance with the Philippines.
"The public gesture doesn't represent the reality of how Beijing sees the firming-up of the U.S.-Vietnamese relationship," said Zhang. "Vietnam has stronger experience in confronting the Chinese. They have a greater inherent alertness and know their opponents better. Vietnam is strategically more important in countering China's assertiveness in the region. The Americans are now fully exploring this advantage."
For a QuickTake explainer on the South China Sea dispute, click here.
Despite the U.S. weapons ban, arms imports to Vietnam rose sevenfold from 2011 to 2015, making it the world's eighth-largest arms importer, according to data on international arms transfers published by the Stockholm International Peace Research Institute.
"China continues to expand its military capabilities with imported and domestically produced weapons," said Siemon Wezeman, Senior Researcher with the SIPRI Arms and Military Expenditure Programme, in the report. "Neighboring states such as India, Vietnam and Japan are also significantly strengthening their military forces."
And while Vietnam relies on China for trade, that could change if the Trans-Pacific Partnership trade deal wins congressional approval in the U.S. According to estimates by the Peterson Institute in Washington, the TPP will increase Vietnam's GDP by 8.1 percent by 2030. The impact for China will be flat as it loses some of its markets to Vietnam.
Complex Relationship
Occupied by China for centuries, with Chinese culture and language once dominant among the Vietnamese elite, Vietnam and China share a complex history. Vietnam's early heroes forged their reputations battling the Chinese. Conversely, many modern Chinese generals made their names fighting the Vietnamese in a 1974 clash near the disputed Paracel Islands and a bloody border war in 1979 over Cambodia.
Relations were further tested in 2014 when China placed a deep-sea exploration rig off the Vietnamese coast in an area of the South China Sea claimed by both countries. That action prompted several clashes at sea and sparked widespread protests in Vietnam.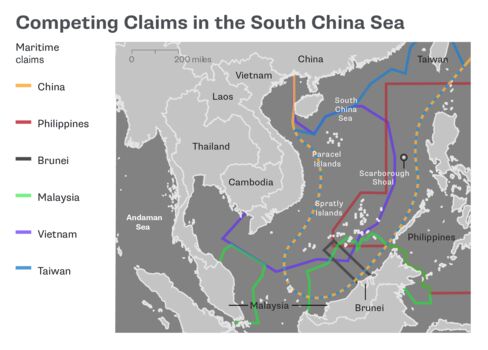 The China National Petroleum Corporation, which owns the billion-dollar oil rig, later decided to relocate the project to an area closer to Hainan province in undisputed Chinese waters.
Pragmatic
Last year Chinese President Xi Jinping addressed the Vietnamese National Assembly with a warm-hearted speech that emphasized how the two countries' socialist systems should help them remain partners.
"We must trust and help each other to move forward together, not letting anybody hinder our steps or shake our systems," Xi said at the time.
Zhang Baohui, director of the Center for Asian Pacific Studies at Lingnan University in Hong Kong, said China recognized that despite closer ties between Vietnam and the U.S., Vietnam also wanted to maintain decent ties with Beijing.
"Beijing's assessment is that there will be limitation to Vietnam-U.S. cooperation," Zhang said. "Vietnam's top leaders, including the general secretary of the ruling party, the president, the prime minister and the speaker of congress, take turns visiting Beijing. This does not mean they like the Chinese. It's quite the opposite. But it shows Vietnam's practical mindset that it understands that it cannot wish China, a rising super power, away."
— With assistance by Ting Shi, and Keith Zhai
Before it's here, it's on the Bloomberg Terminal.
LEARN MORE