China Huishan Dairy sells 50,000 cows and leases them back

Company raising cash after spending millions on share buyback
In the creative world of Chinese lending, there's a new trade in town: the cow leaseback.
China Huishan Dairy Holdings Co., which operates the largest number of dairy farms in the country, is selling about a quarter of its herd -– some 50,000 animals -- to Guangdong Yuexin Finance Lease Co. for 1 billion yuan ($152 million) and then renting them back.
With an estimated $1.3 trillion of risky loans in the country, Chinese banks are becoming more cautious about lending, forcing some companies to look for new ways to borrow. Finance leasing has been growing in popularity, especially for purchases of equipment.
But cows?
"It's not very common to use cows as collateral," said Robin Yuen, an analyst at RHB OSK Securities Hong Kong Ltd. "The value of a cow would fluctuate depending on milk prices and other factors, so it's a risky asset for lenders. It would be hard to do forced selling -- there's no liquid market for a large number of cows."
In Huishan Dairy's case, the story is an increasingly common one in China of rising debts, slumping commodity prices and the propensity of Chinese executives to use their shares as collateral for private loans.
China Slump
That's fine if the shares are rising, but in the volatility of the past year, many stocks slumped, prompting lenders who held them as guarantees for loans to demand the borrower supply more collateral.
"Huishan Dairy seems to be selling cows and leasing them back in order to raise money now, because they've been using cash to buy back shares," said RHB's Yuen, who has a "sell" rating on the stock. "The chairman wants to prop up the share price for reasons that are unclear. It could be a way to get better terms for share pledged-based loans, which he's done before."
Company Chairman Yang Kai has been building up his stake in the company to almost 74 percent, according to the latest disclosure of interests to the stock exchange. Yang pledged shares he owned to Ping An Bank Co. to finance the buybacks, RHB said in a research note on Jan. 28.
Meanwhile, the company itself spent HK$1.93 billion ($249 million) buying back 820.2 million shares in the six months ended September, equivalent to almost twice its cash from operations for the same period.

Seeking Loans
Chief Financial Officer Eddie So wouldn't comment on the finance leasing, when contacted by Bloomberg News. A company official said Yang also wouldn't be available to comment. Yang is in talks with financial institutions for loans of about HK$7 billion to be secured by some of his shares in Huishan Dairy, the company said on April 29, the day it announced the cow lease deal.
A person who answered the phone at Guangdong Yuexin's Hong Kong-based parent company, Guangdong Finance International Co., said they weren't able to comment. Calls to the group's headquarters in Guangzhou, China, went unanswered.
The share buybacks helped Huishan Dairy's share price jump 72 percent since the beginning of July, even as Hong Kong's benchmark Hang Seng Index fell 22 percent.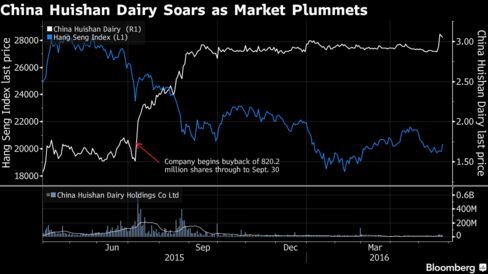 Still, keeping the stock price buoyant drained cash as milk prices were slumping and the company's debts were rising. Huishan had 10.4 billion yuan of bank loans at the end of September, with more than half needing to be repaid within a year. The value of short-term bank loans had more than doubled compared to six months earlier.
Whole milk powder prices, meanwhile, have plunged, with the latest GlobalDairyTrade auction price of $2,252 a metric ton on May 17 down 57 percent from a peak in April 2013.
So the company turned some of its cows into cash, leasing them back through a unit at an annualized interest rate of as much as 6.2 percent, with an option to repurchase the cattle at the end of the five years.
Cow Cull
As dairy cows are typically slaughtered after about five years, when their production declines, the agreement included provisions to cull and replace animals regularly.
"Huishan Dairy's gearing was more than 60 percent last year, so it's not a bad idea for the company to get a loan for working capital," said Anson Chan, an analyst at Daiwa Capital Markets, who also recommends investors "sell" the shares. "The interest rate for the finance lease is lower than the company's current bank loans."
The growth of finance leasing in China is partly a reflection of the broadening of the nation's banking system. Most contracts involve the leaseback of equipment, said Shujin Chen, a banking analyst at DBS Vickers Hong Kong Ltd. They totaled about 4 trillion yuan at the end of last year, with the percentage of equipment purchased by finance leasing at about 7 percent to 8 percent, compared to only 1 percent in 2008, she said.
"Finance leases offer tax advantages, asset flexibility and cash flow certainty," Chen said in an e-mail. In China they account for around 4 percent to 5 percent of bank loans, compared with about 22 percent in 2013 in the U.S., where cow leasing has fallen out of favor.
Low Rates
"The environment just isn't right for the practice with low interest rates, balance sheets generally in good shape, plenty of heifers and milk prices are low," said Mark Stephenson, director of Dairy Policy Analysis at the University of Wisconsin, who said it was more common in the 1990s. "Why would anyone want to lease what they could own?"
China's first registered cow lease plan was last July, when CreditEase Leasing took ownership of 200 cattle from Hebei Luan County Junying Pastures, a supplier to Inner Mongolia Yili Industrial Group.
Huishan Dairy's lease-back is 250 times the size. The company's 190,911 dairy cows, valued at 5.73 billion yuan in September, are spread across 78 farms in Liaoning, a province in northeastern China between Inner Mongolia and North Korea.
"It might take a while for this to turn into a trend," Daiwa's Chan said. "It won't be easy at first for banks and other financial institutions to accept this kind of arrangement, because of the risk of holding animals as collateral."
Before it's here, it's on the Bloomberg Terminal.
LEARN MORE