Worst-Performing U.S. Notes Go on Sale Under Threat of Fed Hike
Two-year notes stagnate in 2016 as 30-year bonds surge 8.9%

Odds of Fed rate increase this year rise to 78%, futures show
Two-year Treasuries are barely eking out a gain in 2016, lagging behind every other U.S. bond and note, as investors prepare to bid at an auction of the securities Tuesday.
The Treasury Department is scheduled to sell $26 billion of the securities, just as Federal Reserve officials signal they may raise interest rates as soon as their next meeting in June. Fed Bank of Philadelphia President Patrick Harker, who doesn't vote on monetary policy this year, said Monday he could see two to three moves in 2016. There's a 78 percent chance the central bank will boost rates by December, the highest odds in two months, futures contracts indicate.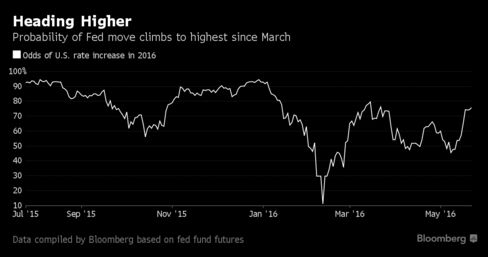 "They're probably going to increase the rate in June or July if the data are good enough," said Kim Youngsung, the head of overseas investment in Seoul at South Korea's Government Employees Pension Service, which oversees $12.7 billion. "I'm not going to buy two-year bonds."
The securities have returned 0.6 percent this year, based on Bank of America Corp.'s debt indexes. The broad Treasury market has gained 3.2 percent, let by an 8.9 percent surge in 30-year bonds.
Above Average
Two-year note yields rose two basis points, or 0.02 percentage point, to 0.92 percent as of 10:07 a.m. in New York, according to Bloomberg Bond Trader data, the highest since March 16 on an intraday basis. The price of the 0.75 percent security due in April 2018 was 99 22/32.
The yield is above the average of 0.76 percent for the past year. Because of their short maturity, two-year notes are among the most sensitive to what the Fed does with its benchmark, the target for overnight loans between banks. Ten-year yields rose three basis points to 1.86 percent.
The May 2018 securities scheduled to be sold yielded 0.945 percent in pre-auction trading, compared with 0.842 percent at a previous sale of two-year debt on April 25.
The difference between two- and 30-year yields shrank to 171 basis points Monday, the narrowest since 2008.
Purchases of new homes in the U.S. surged in April to the highest level since the start of 2008, Commerce Department data showed Tuesday. The Treasury is scheduled to sell five-year notes Wednesday and seven-year securities Thursday. It also plans to sell two-year floating-rate debt Wednesday. Fed Chair Janet Yellen speaks Friday.
El-Erian Opinion
Enough Fed officials are speaking in favor of higher interest rates that Mohamed El-Erian, the chief economic adviser at Allianz SE and a Bloomberg View columnist, wrote on Twitter Sunday that officials are talking up a hike.
U.S. yields that are higher than those in other countries will still lure investors to Treasuries, said Tsutomu Komiya, a bond investor in Tokyo at Daiwa Asset Management, which had $119 billion in assets as of March 2015, the most recent figure on the company's website. Two-year notes yield about minus 0.51 percent in Germany and negative 0.23 percent in Japan.
"Global investors are trying to find an attractive investment option," Komiya said. "Demand is strong" in the Treasury market, he said.
Before it's here, it's on the Bloomberg Terminal.
LEARN MORE