Italy Top Female CEO Targets Growth of De Benedetti Empire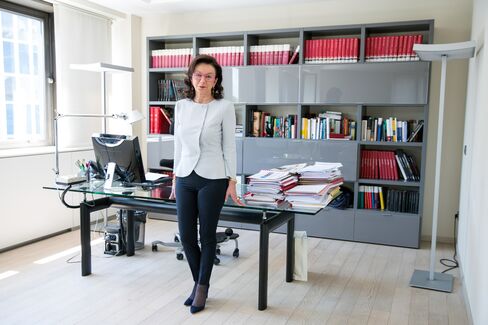 Only 7 percent of Italy's listed companies have women as CEOs

Mondardini will consider international media parterships
When two of Italy's biggest newspapers discussed a partnership this year, it prompted a rare gathering of the business leaders for the country's most prominent families -- the Agnellis and De Benedettis. What was rarer still was that the key negotiator for one of the sides was a woman.
Monica Mondardini, the 55-year-old chief executive officer of the De Benedettis' $1 billion holding company CIR SpA, brushes aside any suggestion her gender makes her an oddity even though only 7 percent of listed companies in Italy have a woman CEO, and of them, she runs the one with the biggest market value. At the January lunch in Turin to negotiate the creation of a leading player in Italy's media industry, where she shared a table with Fiat Chrysler Automobiles NV CEO Sergio Marchionne and family leaders John Elkann and Rodolfo De Benedetti, she sought to get the best possible deal.
"I've never perceived any gender issue in my career and my achievements have always been just the result of strong commitment, autonomy from ownership and some luck," Mondardini said in an interview at CIR's headquarters in Milan's Brera art district. "My goal, in leading one of the few Italian family-owned industrial groups that wants to remain that way, is to expand CIR's three main businesses."
The group's areas of focus are media, health care and auto parts, and Mondardini -- who shares Marchionne's passion for restructuring businesses and analyzing financial data -- sees emerging changes in the landscape in all three.
Newspaper Venture
Take the media business. The combination of CIR's Gruppo Editoriale L'Espresso SpA -- publisher of daily la Repubblica -- with the Fiat unit that controls Turin daily La Stampa brings together the country's No. 2 and No. 3 generalist newspapers. It's also sparked more deals in the Italian media market, which has followed the global trend of declining print readership and advertising.
RCS MediaGroup SpA -- owner of Italy's top-selling daily Corriere della Sera -- is the subject of competing takeover bids by an investor group led by businessman Andrea Bonomi and one from Cairo Communications SpA. Fiat distributed its media assets to shareholders, including a 17 percent stake in RCS, as part of its deal with L'Espresso.
Getting control of La Stampa shows that L'Espresso "wants to remain a central figure in the Italian media" and is willing to consider international partnerships, particularly for its web segment, to expand abroad, said Mondardini. "Our goal is to follow the change in a transforming environment," said Mondardini, who uses an old Nokia mobile.
International Outlook
The CEO also sees room to expand CIR's other two main businesses. Health-care company KOS could consider further acquisitions in Italy, while car-parts maker Sogefi SpA needs to complete its restructuring, she said. Mondardini, Sogefi's chairman, said the company isn't for sale even after attracting interest from private-equity firms.
Sogefi shares reversed earlier losses and rose as much as 2.5 percent in Milan trading and were up 1.3 percent at 3:49 p.m., giving the company a market value of about 182 million euros. L'Espresso gained as much as 4.9 percent and was up 3.8 percent at 3:40 p.m., putting the company's market value at 379 million euros. CIR owns 56 percent of Sogefi and 54 percent of L'Espresso.
About seven years into her role as the head of the family-owned group's media business, Mondardini has wiped out debt at L'Espresso and kept it profitable. CIR shares have risen about 16 percent since she assumed the CEO position at the holding company in May 2013.
Born in the northern town of Cesena and a graduate in economics and statistics from the University of Bologna, Mondardini has spent most of her career outside Italy. She moved to Paris in 1990 to join Lagardere's Hachette media group and later worked for Italian insurer Assicurazioni Generali SpA, restructuring its Spanish unit before joining L'Espresso as CEO in 2009.
Mondardini also holds several independent director positions, including a seat on the board of Credit Agricole, as well as the chairmanship of Rome airports manager Aeroporti di Roma SpA.
Female Directors
Having more female directors on corporate boards has proved to be positive for companies' performance. In southern Europe, firms with more female directors than the national average outperformed those with only male directors by almost 55 percentage points over the past three years, according to data compiled by Bloomberg. Over the same time period, companies in the pan-European Stoxx Europe 600 Index with more than the gauge's average of women on their boards outperformed the ones with no female directors by about 5 points.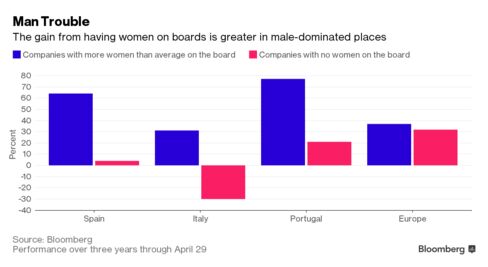 Italian Prime Minister Matteo Renzi has promoted increased roles for women in business by appointing three women to the chairmanships of state-controlled companies Eni SpA, Enel SpA and Poste Italiane SpA. The media industry has the highest number of female CEOs in Italy. RCS MediaGroup is run by Laura Cioli, while Silvio Berlusconi's daughter Marina is chairman of publisher Arnoldo Mondadori Editore SpA. Il Sole 24 Ore SpA, publisher of Italy's biggest financial newspaper, had a woman as CEO until Donatella Treu resigned in April.
Mondardini says while she's never "felt the need to campaign" for quotas on female corporate directors, she acknowledges that "several positions I took as independent director were favored by those rules" and helped promote talented women to emerge.
"So in the end, it was a smart move," she said.
Before it's here, it's on the Bloomberg Terminal.
LEARN MORE