The Currency Ethicist: One Man's Push to Fix a Tarnished Market
International code of conduct for FX traders due Thursday

David Puth-led committee hammered it out over eight months
What David Puth has seen in 35 years in the currency markets hasn't always been pretty.
Anyone curious about misbehavior among currency traders doesn't have to go back very far to find it. Five global banks paid about $9 billion in fines and penalties last year after traders were caught working together to rig benchmarks.
The scandal upended foreign exchange desks and tarnished the $5.3 trillion-a-day industry. Puth's job is to restore trust by spearheading a global effort to hammer out a voluntary code of conduct for market participants. It's scheduled to be made public on Thursday.
"What caused me to lose sleep was someone doing something bad," Puth, 59, said in an interview at his office near Wall Street, overlooking the heliport on New York City's East River. "Seeing those things happen over the course of my career absolutely shaped my view."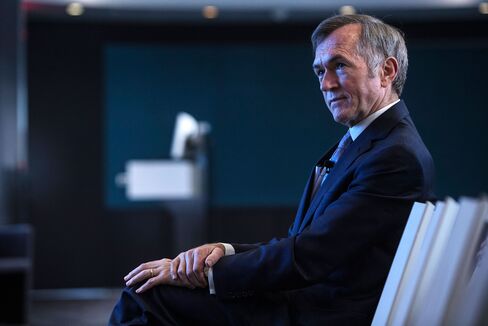 Puth, a former JPMorgan Chase & Co. and State Street Corp. executive, is now chief executive officer of New York-based CLS Group Holdings AG, a utility that settles trillions of dollars of currency transactions a day and is considered by the U.S. Treasury to be a systemically important piece of the financial system. He runs the audit and finance committee for the poverty-fighting Robin Hood Foundation, of which he's been a board member for 18 years, and he's also a trustee of the Institute of Contemporary Art in Boston.
Central Bankers
It's through his work as a member of foreign-exchange committees at the Federal Reserve Bank of New York and the Bank of England that he came to the attention of international officials looking for someone to head an effort to re-establish confidence in the currency-trading industry.
Benchmark Rates Are Set by Banks Said to Fiddle Them: QuickTake
Central bankers asked Puth last year to lead a team of dozens of senior market participants from banks, asset managers and trading venues to create the guidelines. It's taken them eight months.
"This is the right guy," said Sherman Teichman, founder of the Institute for Global Leadership at Tufts University in Medford, Massachusetts, who taught Puth in college and later asked him to return to the institute as a board member. "He has a steely, uncompromising sensibility about what's right and what's wrong. This is a man who rolls up his sleeves."
The 'Cartel'
Citigroup Inc., JPMorgan, Barclays Plc, Royal Bank of Scotland Group Plc and UBS Group AG paid fines and penalties for the misconduct, according to the U.S. Department of Justice. The scheme by traders to fix currency rates via chat rooms, including the self-described "Cartel," was a "brazen display of collusion," U.S. Attorney General Loretta Lynch said in a statement last May.
"We can, as an industry, have an impact on changing behavior," Puth said. "There's no question that the American public has not gotten over its view of Wall Street as being the root of many evils, and I think every small step that can be taken to make things better, or more positive, is a good thing."
In an effort to restore best practices after the scandal, Puth and his peers met three times, in London, New York and Tokyo, to discuss scenarios in which future misconduct could occur, assess more than 2,500 comments on the document and write four drafts of the code. Now comes the hard part -- converting the principles on paper to better behavior on the trading floor.
The code will cover the practices of pre-hedging and price markups. It will also set guidelines for information-sharing, which has stalled as traders and salespeople withhold market commentary and trading ideas from clients for fear of breaching regulations. Other topics include ethics, governance, execution, risk management, compliance and settlement.
'Good Guidance'
Skeptics say it will be difficult for whatever Puth's committee comes up with to change behavior in a 24-hour, global market in which the product traded is the tender of sovereign nations. Most foreign-exchange deals are done over-the-counter -- an activity that doesn't fit neatly under the authority of any single regulator.
The code is "good guidance," said David Mercer, CEO of London-based currency-trading platform LMAX Exchange. "But where's the sanction, where's the enforceability, where's the power if someone contravenes it?"
In order for the guidelines to be more than a memo thumb-tacked to the bulletin board in the employee break room, they'll need to address market scenarios where practices fall into a gray area. That contrasts with instances of wrongdoing or fraud that firms typically "crush" as soon as they're detected, Puth said.
Black and White
"If it was just as simple as black and white, right and wrong, we would have finished this" months ago, he said. "We didn't want to put out examples that give people safe harbor, but at the same time, we couldn't make the examples so blatantly obvious that they carried no weight."
The reputational stakes are high and the cost of misconduct will cause companies to adhere to the code, with some banks already changing their practices, Puth said.
"If they don't do something to really adhere to the code, if there continue to be these scandals, they run the risk that they're going to get some serious rules," said Mayra Rodriguez Valladares, a former New York Fed foreign exchange analyst who now conducts training for banks and financial regulators as managing principal of MRV Associates. "That would obviously make it harder for them to trade, and make it more expensive."
Before it's here, it's on the Bloomberg Terminal.
LEARN MORE