Sweden Jobless Rate Falls to Pre-Lehman Crisis Levels: Chart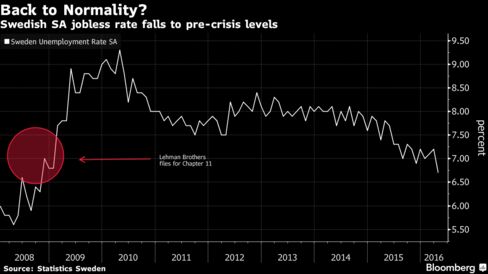 Sweden's seasonally-adjusted unemployment rate in April fell to 6.7 percent, its lowest level since the collapse of Lehman Brothers triggered the biggest financial crisis in recent history, in the fall of 2008. The headline non-adjusted rate also fell on the previous month, to a lower-than-expected 7.3 percent. According to Torbjoern Isaksson of Nordea, the improved conditions in the labor market and strong economic growth reinforce the view that Sweden's central bank, the Riksbank, "is done easing."
Before it's here, it's on the Bloomberg Terminal.
LEARN MORE