JG Summit Leads Rally as Duterte Boosts Philippine Shares: Chart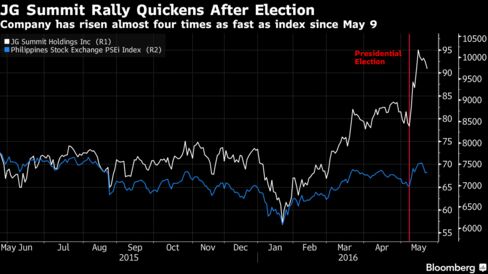 JG Summit Holdings Inc., a conglomerate with interests in everything from airlines to petrochemicals to snack foods, has risen almost four times as fast as the Philippines' benchmark stocks gauge since Rodrigo Duterte's victory in the May 9 presidential election. The company's share price, which surged more than 700 percent during the administration of President Benigno Aquino, has been driven by its exposure to the Philippine growth story, says George Ching, an analyst at COL Financial Group Inc. in Manila. In the absence of reversals of government policy, earnings at JG Summit companies, which also include shopping malls and the country's biggest telco and electricity utility, look set to continue growing, he said.
Before it's here, it's on the Bloomberg Terminal.
LEARN MORE