Torched Patrol Car Symbol of Hollande Losing Grip on France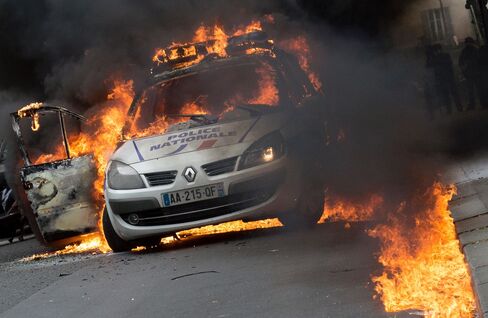 Fears of shortages trigger gas lines as refineries blocked

Police report hundreds of injuries in anti-government protests
Just as Francois Hollande was trying to persuade the French that life was getting better ahead of next year's election, outbreaks of street violence and strikes are undermining his authority.
With months of protests against Hollande's government become increasingly aggressive, armored police forced open an oil refinery near Marseille in the early hours of Tuesday as illegal blockades of fuel supplies triggered lines at gas stations across the country. The offices of Hollande's Socialist Party have been vandalized in several cities across the country, most recently on Monday, and news channels have been looping footage of a group of young men chasing two police officers from their patrol car and setting the vehicle on fire.
With his popularity already at record lows, the clashes are causing voters to question Hollande's ability to maintain control. Hundreds of police officers have been injured during demonstrations -- all while the president wields extraordinary powers to uphold law and order under a state of emergency introduced after last year's terrorist attacks.
"The images are very bad for the government," Bruno Jeanbart, a pollster at OpinionWay in Paris, said in a telephone interview. "People see this and they get the sense that we're almost in a state of civil war where anything is possible. All of this is reinforcing the feeling that we're practically in the post-Hollande era already."
Facing the G-7
With Hollande heading to Japan to meet with his fellow Group of Seven leaders on Thursday, Prime Minister Manuel Valls and Finance Minister Michel Sapin have vowed to maintain gas supplies in an attempt to show the government remains in charge.
"The state is showing great firmness and determination," Valls said in an interview on Europe 1 from Jerusalem. "Police forces have been intervening since Friday to evacuate protesters from blocked sites, in Brittany, in Normandy, in the Hauts de France, in Auvergne. Other sites will be opened."
As Valls parried questions on the refinery outages Tuesday, Hollande spent an
hour being interviewed on France Culture radio about history. The
daily agitation matters, he said, but "what's most important for me as head of state is
what I will leave behind."
With helicopters circling the town of Fos-sur-Mer on France's Mediterranean coast, police in black riot gear armed with batons and shields pushed back demonstrators to enter an Exxon Mobil Corp.'s fuel depot from 4:15 a.m. local time on Tuesday. Truck drivers protesting Hollande's efforts to ease restrictions on firing workers set light to tires outside refineries shutting down most of the country's gasoline production over the weekend.
Some 678 filling stations faced shortages or lacked any fuel Monday, up from 336 a day earlier, according to Total, the nation's largest oil company. About 20 percent of the country's 11,500 gasoline outlets are facing shortages, Europe 1 reported Tuesday. Near the Foreign Ministry in downtown Paris, drivers were backed up waiting to refuel and honking angrily.
France, Hostage
The disruption isn't limited to motorists either. The strikes are also affecting LNG terminals at Fos and Montoir-de-Bretagne on the Atlantic coast and could prevent natural gas deliveries until Thursday, operator Elengy said on its website.
"We must prevent the French population from being taken hostage," Sapin said Monday. "There will be no tolerance on the part of the government."
Hollande had been hoping that hosting the Euro 2016 soccer tournament this summer would raise voters' spirits ahead of the presidential election campaign, but violence at the French cup final this weekend suggested it's more likely to be another test for security forces. Fans of Paris Saint Germain and Olympique Marseille started fires in the stands at the national stadium in Paris Saturday, and motorcycle helmets, glass bottles and PVC pipes were smuggled in by spectators, according to AFP.
Betting on Jobs
Both the refinery strikes and the wider demonstrations are in protest against Hollande's efforts to ease restrictions on firing and reduce overtime pay. Struggling with an unemployment rate that is roughly twice the level of the U.K. and Germany, the Socialist government is seeking ways to encourage hiring. Yet Hollande has reaped a double failure: he's watered down the measures, provoking the ire of business, and still triggered violence on the streets.
"Reforming the French economy is not impossible if the president has a popular mandate, a parliamentary majority and a long-term vision," said Bruno Cavalier, chief economist at Oddo Securities in Paris. "With President Hollande, all three factors are missing."
Hollande has pinned his hopes for re-election on the economy, betting that a recovery will arrive with enough force to save his presidency. Yet even if unemployment were to come down, Hollande could be undermined by his inability to impose order on the streets.
Three quarters of voters believe the government has not been tough enough in cracking down on rioters at demonstrations and acts of vandalism that they cause, according to an Elabe poll for BFM TV published May 18.
"From the beginning, he lacked respect," Jeanbart said. "And the recent incidents have made that image even worse."
Before it's here, it's on the Bloomberg Terminal.
LEARN MORE