Five Challenges for New Chief of Koruna-Capping Central Bank
Rusnok to oversee Czech monetary authority starting July 1

He'll face debates on koruna cap exit, negative rates, euro
Czech President Milos Zeman will appoint Jiri Rusnok as the next central bank governor on Wednesday, putting a trusted ally in charge of the monetary authority he's scolded for pursuing unconventional stimulus.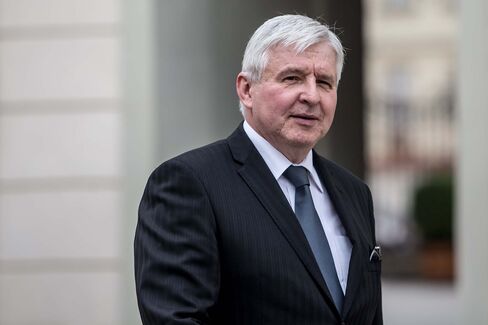 Rusnok, whose previous posts include interim prime minister, finance minister and pension fund executive, has disagreed with Zeman's criticism since he joined the rate-setting board two years ago. The grey-haired 55-year-old has embraced the bank's regime of holding rates near zero and limiting currency gains. Here are the five biggest challenges he'll face as he starts his six-year term on July 1.
1. Exiting the currency cap
Rusnok will oversee preparations for scrapping the limit on koruna gains, now set at about 27 per euro, that was imposed in 2013 to ward off deflation. After repeatedly intervening in the market to defend the cap, the bank will try to secure a smooth exit and prevent sharp appreciation when it removes the shackles. The exact logistics have yet to be determined, with the bank's board discussing both a one-off move and a series of gradual steps.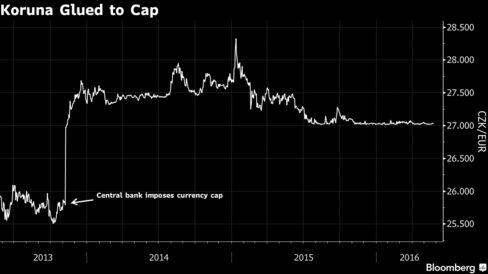 2. Negative rates
The central bank is also debating using negative interest rates to deter speculative capital inflows once the koruna regime ends. Rusnok has said he sees a "low likelihood" of cutting the benchmark from 0.05 percent, which policy makers have dubbed "technical zero." He's also warned, however, that the central bank can't rule that out if it needs to cool excessive appreciation pressure on the koruna.
3. Hitting inflation goal
The central bank has struggled to bring consumer-price growth back to its 2 percent target as cheap energy prices continue to undercut headline inflation. The regulator sees itself keeping the currency regime in place until around the middle of next year and scrapping it only when its forecasts show it won't have re-impose non-standard measures.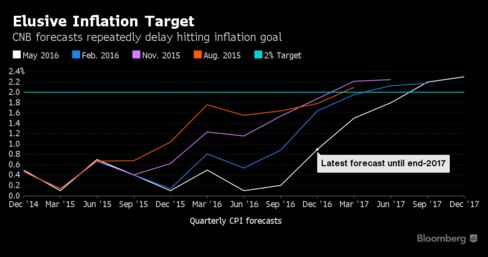 4. Euro debate
The Czechs, along with their other ex-communist European Union peers, are technically obliged to adopt the euro. While the central bank's role in the process is only advisory, its status as a respected institution gives it a powerful voice in shaping public discussion. Rusnok has been less dismissive of the idea of ditching the koruna than other rate setters and has said sharing a currency with the country's main trading partner, Germany, would benefit Czech industry. He's characterized the government's idea that 2020 is the earliest possible entry date as unrealistically soon, and he told Technik magazine this month he'll try to secure adoption "at the right time and at optimal conditions."
5. Bank regulation
Czech policy makers have opposed some parts of the EU's plans to unify financial supervision and regulation, arguing that keeping that in house means well-capitalized domestic banks are better insulated from credit meltdowns elsewhere in Europe. Rusnok is less critical of the plan and doesn't see a "fundamental problem" in the fact that adopting the euro automatically means joining the European Banking Union, according an interview with Lidove Noviny last year. Apart from the joint rules for supervision and regulation, the banking body also designs joint rescue mechanisms for crises, Rusnok said.
Before it's here, it's on the Bloomberg Terminal.
LEARN MORE