Cocoa Crunch Drives Spreads Higher as Traders Feel Shortage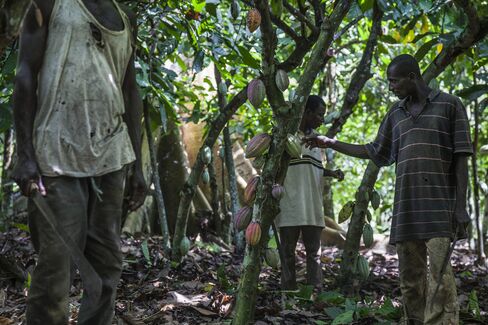 Bean deliveries in Ivory Coast are 9.4% behind last season's

Cargill sees cocoa shortage of 160,000 tons, Olam at 308,000
Cocoa traders are starting to feel the effect of a shortage forecast this season.
As harvesting of the smaller of two annual crops in West Africa picks up, bean deliveries in top grower Ivory Coast continue to lag last season's pace and the quality is poor. That's forcing some traders to close out bets on lower prices, widening the gap between futures contracts traded in London to a record.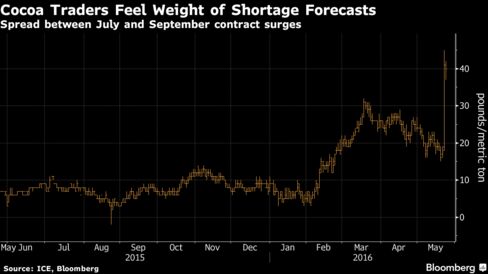 While most traders agree supplies will fall short of demand this season, estimates vary depending on expected consumption. Singapore-based Olam International Ltd. predicts a shortfall of 308,000 tons and Cargill Inc., the world's second-largest processor, forecasts it at 160,000 tons.
"Ivory Coast producers and exporters have reported that beans sent for export are being rejected due to small bean size," Jack Scoville, president of Price Futures Group Inc. in Chicago, said in an e-mailed report Monday. "The potential for short cocoa production is known, but the demand is a problem as the offtake in the West has been less than expected lately."
Cocoa for July delivery was 39 pounds ($57) a metric ton more expensive than futures for September, about double the difference a week ago, ICE Futures Europe data show. The spread reached a record of 45 pounds on Monday.
Ivory Coast
Bean deliveries in Ivory Coast came to 1.303 million tons from the start of the season in October to May 22, according to a person familiar with government data who asked not to be identified because the statistics haven't been published. That's 9.4 percent lower than last season and Cargill expects that lag to widen in the next months, it said in a report on its website.
While output losses are being reported in both Ivory Coast and second-biggest producer Ghana, the situation now appears "more stable," with cocoa still coming to ports, Scoville said. Shortages will be short-lived, with this season's deficit flipping to a surplus of more than 200,000 tons in 2016-17, Citigroup Inc. said in a report e-mailed Tuesday.
"We also still expect a modest contraction in grindings this year after a sharp decline in 2014-15 as high terminal prices and shrinking packaging sizes are crimping cocoa used for chocolate processing," the bank said.
Cocoa for July delivery rose as much as 1.3 percent to 2,242 pounds a ton on ICE Futures Europe, the highest since May 12. It was at 2,228 pounds by 11:16 a.m. in London. In New York, beans for the same month gained as much as 2 percent to $3,018 a ton on ICE Futures U.S., also the highest since May 12.
In other markets:
Robusta coffee for July gained 0.7 percent to $1,655 a ton in London as the arabica variety for the same month rose 0.8 percent to $1.231 a pound in New York.
White sugar for August fell 0.4 percent to $471.20 a ton in London as the raw type for July dropped 0.5 percent to 16.72 cents a pound in New York.
Before it's here, it's on the Bloomberg Terminal.
LEARN MORE