Paramount Studio's Fate in Doubt as Redstone Demands Rewrite
Viacom presses ahead despite opposition from former chairman

'Emotional attachment' to studio spurs feud with ex-protege
It was the kind of event Sumner Redstone loved to attend. "Star Trek" producer J.J. Abrams and actor Chris Pine gathered at the Paramount Pictures lot Friday to posthumously honor series star Leonard Nimoy and celebrate the latest installment of the movie franchise.
Instead, the 92-year-old mogul, who controls a $40 billion media empire, was fighting that night through his lawyer to sever ties with former confidant Philippe Dauman. The rift with the chief executive officer of Viacom Inc. was triggered, in part, by Dauman's plans to sell a stake in Paramount -- an asset prized by Redstone.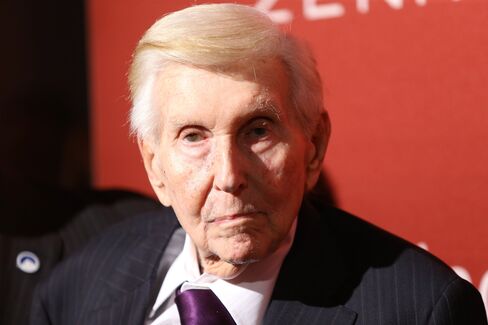 While his public appearances have been curtailed by old age, Redstone is still trying to call the shots.
Dauman announced in February he was looking to sell a minority interest in the studio. It was his first big move after succeeding Redstone as chairman three weeks earlier. The sale, which could raise $1 billion or more, is part of his strategy to reduce Viacom's $11.5 billion in debt, reinvigorate cable TV networks like Comedy Central and find a partner to restore Paramount's luster. Instead, it has led to a falling out between the executive and his longtime mentor and put those plans at risk.
"I never thought Sumner would sell," said Frank Biondi, a former CEO of Viacom. "It was more of an emotional attachment for him."
Moving Ahead
Viacom will press ahead with those plans despite opposition from its largest shareholder, a person with knowledge of the matter said Monday. The board, including Redstone, received an update on the sale effort last week, said the person, who asked not to be identified discussing internal deliberations. The company is sticking with its goal to have a deal by June, the person said.
Sumner and his daughter Shari have only one vote each on the board, even though their family company holds an 80 percent voting stake in Viacom.
A CEO trading lawsuits and accusations with his controlling shareholder may give Paramount bidders pause, according to Dan Clivner, a senior member of the M&A and private-equity practices for Sidley Austin LLP in Los Angeles who has advised clients on major media deals.
"People often undervalue certainty," Clivner said. "In this case 'certainty is king' and the succession and control issues need to be settled promptly."
New Trustees, Directors
Sumner Redstone made official some of those plans Tuesday, naming two members to his family trust: Tad Jankowski, executive vice president and general counsel of National Amusements Inc., and Jill Krutick, a former media executive and equity analyst.
Krutick covered Viacom as a Citigroup analyst and was senior vice president for investor relations and corporate development at Warner Music Group. Jankowski has worked for Redstone for 35 years, and has been involved in financing, restructuring and expansion in the U.K., Chile, Argentina, Russia and Brazil.
Redstone also appointed Krutick and his oldest granddaughter, Kimberlee Ostheimer, to the board of National Amusements, the Redstone family company that also holds an 80 percent voting interest in CBS Corp. Ostheimer is an attorney who formerly practiced at the Legal Aid Society in the Juvenile Rights Division, according to a statement Tuesday.
"This is my trust and my decision," Redstone said. "I have picked those who are loyal to me and removed those who are not."
Viacom shares have declined 40 percent in the past year. The Class B shares rose 2.7 percent to $41.02 at 10:16 a.m. Tuesday.
On May 16, a day before the Viacom board meeting, Michael Tu, an attorney representing Redstone, sent Dauman a letter saying Redstone believed the sale shouldn't go forward, according to a person familiar with the contents. Tu said his client wasn't kept informed of the negotiations and wanted his advisers to have a comprehensive briefing.
Open Warfare
Tension between the two erupted into open warfare last weekend, with Redstone removing Dauman from his position on a family trust and as a director of National Amusements.
"Unless Viacom's board presents a concrete plan that convinces him otherwise, Mr. Redstone continues to believe that it is in the best interest of Viacom that Paramount Pictures should remain wholly owned," a spokesman said Sunday.
Dauman filed suit Monday in Massachusetts, accusing Shari Redstone of manipulating her father and asking a court to block his removal from both roles. Redstone fired back, filing a petition in state court in Los Angeles seeking to confirm the validity of his actions in removing Dauman and George Abrams, another Viacom director, from those posts.
Redstone acquired Paramount after a bruising $10 billion takeover fight in the early 1990s. Having grown up in the theater business, he had great affection for the studio behind "The Godfather" and "Raiders of the Lost Ark," according to Biondi, Viacom's CEO at the time.
Some Investors
Some Viacom investors, including Mario Gabelli, would still like the Paramount sale to proceed. Gabelli, who first suggested the idea and is the largest owner of Viacom voting shares after Redstone, wants to see the company create a joint venture that could raise money for movie and TV production, while limiting the tax liability of an outright sale.
"They have to have a broader film package, and get into series, like Netflix's 'House of Cards,"' Gabelli said in an interview Monday.
Before it's here, it's on the Bloomberg Terminal.
LEARN MORE