Saudi Arabia's Late Arrival to Eurobond Party Comes With a Cost
Best start to year since 2013 for Middle East bond issues

Saudi would need to pay 20-25bps over Qatar: Union Investment
By the time Saudi Arabia taps international investors for a debut bond, it may have to pay extra to lure money managers who have just gorged on debt sold by its neighbors.
When the kingdom invited banks last week to pitch to underwrite a bond issue, it joined the back of the line behind other Middle Eastern companies and states that have already raised $15 billion this year. Qatar is meeting investors this week about a possible $5 billion sale, following a similar-sized transaction from Abu Dhabi last month.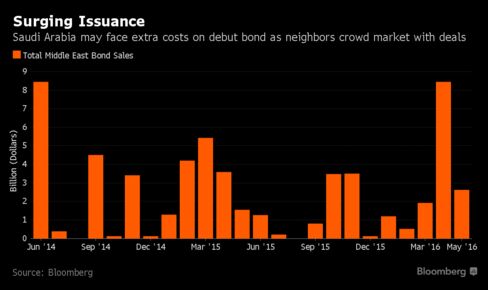 "Qatar's jumbo deal could lead to re-pricing of Gulf Cooperation Council debt and would make Saudi funding expensive," said Sergey Dergachev, a senior money manager helping run $13 billion of emerging-market debt at Frankfurt-based Union Investment Privatfonds GmbH, who will consider buying Saudi and Qatari bonds after investing in Abu Dhabi's issue. "Issuing immediately or very closely after Qatar, I assume the Saudis would need to pay 20 to 25 basis points more."
Energy-exporting nations are borrowing internationally following a halving of oil prices since 2014 which has forced them to raid savings to fill widening budget shortfalls. The prospect of the Federal Reserve raising interest rates as early as June and the annual market hiatus in the Middle East for the Muslim holy month of Ramadan, which starts next month, are adding pressure on issuers to move quickly.
April was the busiest month for Middle East bond sales since June 2014 and issuance has run at its fastest rate in three years so far in 2016. A successful $5 billion issue from Qatar will take the tally close to $20 billion. That comes in addition to private placements, such as Bahrain's $435 million sukuk.
Dubai-based container operator DP World is raising $1.2 billion in seven-year dollar Islamic bonds on Tuesday while Noor Bank PJSC sold $500 million of the debt.
Beyond the region, Brazilian state oil producer Petroleo Brasileiro SA sold $6.75 billion of notes this month and Russia started an offering of international bonds on Monday.
Financial Hole
While investors can be discerning with so much emerging-market debt on sale, they may also want compensation for Saudi Arabia having a bigger financial hole to fill than its neighbors, said Angelo Rossetto, a trader at GMSA Investments Ltd. in London.
Saudi Arabia's budget deficit will be 14 percent of economic output this year, compared with about 5 percent for Qatar, based on median estimates of analysts surveyed by Bloomberg. Moody's Investors Service cut the country's credit rating this month to A1, the fifth highest investment grade, saying "lower oil prices have led to a material deterioration in Saudi Arabia's credit profile."
"It will trade wider than Qatar based on credit rating and differences in budget deficits," Rossetto said, adding that a premium of 25 basis points will be enough to ensure a successful Saudi deal.
Reserve Pool
So far, Saudi Arabia has financed its budget deficit by selling local debt and drawing down foreign reserves. Yet even after tapping its rainy-day savings, the country still holds the world's third-largest pool of reserves at about $580 billion, according to data compiled by Bloomberg. This means the country "has an option to wait," said Richard Segal, a London-based emerging-market analyst at Manulife Asset Management.
Pricing for Saudi Arabia's bond sale will depend more on the size of the transaction than guidance from Qatar's issue, said Brett Rowley, a managing director at TCW Group Inc., which oversees $185 billion of assets. The government has not disclosed how much it plans to raise.
"If they keep it in the same neighborhood as Abu Dhabi and potentially Qatar,
at $5 billion, Saudi Arabia may be able to print near similar levels," Rowley said. "If they try for a much larger transaction, then investors might demand a higher premium."
Before it's here, it's on the Bloomberg Terminal.
LEARN MORE