Pound Volatility Jumps as One-Month Countdown to EU Vote Begins
Further out, measures are inverted in show of market angst

Trade-weighted pound may fall up to 15% on Brexit: Treasury
With exactly a month to go until the referendum on Britain's membership of the European Union, currency markets show traders aren't taking any chances about the potential effects of leaving the world's largest trading bloc.
While the pound just posted its best performance in three weeks, a measure of price swings anticipated in a month's time jumped to the highest since February as it encompassed the date of the June 23 vote. Implied two-month volatility has been higher than a three-month measure since late April, showing investors are concerned sterling gyrations will surge around the time of the referendum.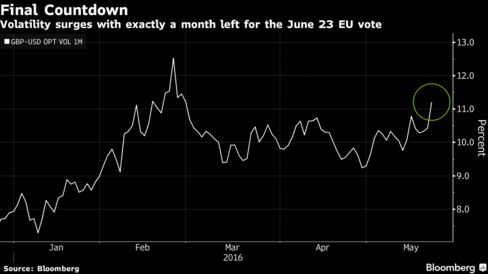 The U.K. currency has rebounded almost 5 percent from the seven-year low set earlier in 2016 amid speculation its slump was overdone and as opinion polls suggest the "remain" camp is pulling ahead. Yet the volatility gauges, which track the cost of protection in the options market, show investors are far from complacent. The U.K. Treasury on Monday predicted a yearlong recession following a Brexit and said a trade-weighted pound index may fall as much as 15 percent.
"The fact that we're now in the one-month period is interesting," said Jeremy Stretch, head of foreign-exchange strategy at Canadian Imperial Bank of Commerce in London. Markets have become "relatively sanguine" as the pro-Europeans pull ahead, "but it would only take one or two opinion polls to start to show some signs of fragility in the lead for the remain campaign, so vols could see a squeeze higher."
One Month
One-month implied pound-dollar volatility rose 0.7 percentage point to 11.1 percent as of 4:40 p.m. in London, data compiled by Bloomberg show.
While that's only the highest on a closing basis since Feb. 29, the two-month measure -- which is close to the highest since 2009 -- exceeded the three-month gauge by two percentage points. That's bigger than the inversion in the run-up to both the U.K. general election last year and the referendum on Scottish independence in September 2014.
Sterling fell 0.2 percent to $1.4467 after gaining 1 percent last week. It was little changed at 77.43 pence per euro, following a 1.8 percent weekly advance.
Before it's here, it's on the Bloomberg Terminal.
LEARN MORE