It Hasn't Been This Easy for the World to Service Its Debt Since Lehman Collapsed
Debt-driven growth forever!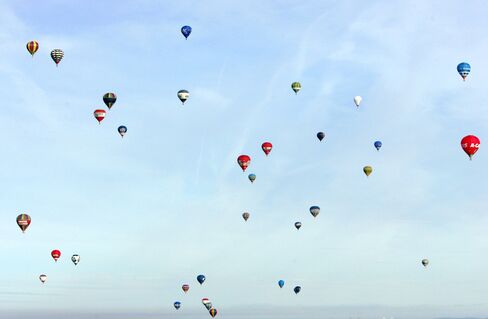 Don't get too fussed over the spike in corporate defaults or signs that the pain might not be contained to the commodity sector, says JPMorgan Chase & Co.
A team led by Managing Director Nikolaos Panigirtzoglou writes that, in aggregate, the world's corporations, households, and governments haven't found it this easy to service their obligations in nearly a decade despite a steady rise in global indebtedness tied to China's debt binge.
"Government and corporate issuers are taking advantage of strong investor demand to extend the maturity of their debt," the strategists explain. "The decline in coupons to record lows and the increase in maturities to record highs are clearly seen in the Barcap Multiverse index, the broadest bond index in the world."
The causes of this are manifold, including a deluge of interest rate cuts and trillions of dollars worth of asset purchases by major central banks, relatively muted market-based measures of inflation expectations, investors searching for yield, and a lower anticipated ceiling for central bank policy rates going forward.
As of May, the average coupon payment has sunk to 3 percent while the average maturity has exceeded 8.5 years for the first time on record for the Barcap Multiverse index, according to Panigirtzoglou & Co.
Using GDP as a proxy for income, JPMorgan's team finds that an income-adjusted debt service ratio shows that "while the total debt to GDP ratio has been rising for the world as a whole since 2011, the debt service ratio has been falling and currently stands at 33 percent, the same level as during 2007 before the Lehman crisis."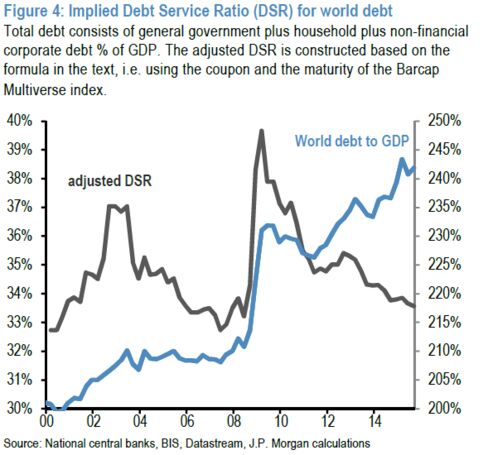 This metric even understates the new-found ease with which the public and private sector can carry ever-increasing debt loads, Panigirtzoglou & Co. claim.
"In a world where debt is easily rolled over, interest costs becomes a more important metric for assessing debt sustainability," they write. At 7 percent currently, the interest cost to GDP ratio is well below the 2008 peak of 11 percent of GDP and well below the pre-crisis level of 10 percent seen during 2007."
Moreover, the nations in which the ratio of interest cost to GDP are the highest, like China and Brazil, have room to aggressively lower interest rates to aid the private and public sectors' ability to sustain their debt loads in the future.
Under a relatively optimistic scenario—at least from the viewpoint of issuers of debt—in which oil stabilizes and inflation remains low, the "virtuous circle" outlined by JPMorgan's team may continue to roll on indefinitely, resulting in a less severe default cycle.
"As debt maturities are extended, debt issuers are reducing debt servicing costs and creating even more demand for their debt as debt sustainability improves," they write.
The fear, however, is that a "world where debt is easily rolled over" becomes less so in the event that the many conditions that facilitated this increase in indebtedness and maturities begin to dissipate.
Before it's here, it's on the Bloomberg Terminal.
LEARN MORE