Axa Gives Up World-Beating Returns by Quitting Smoking: Chart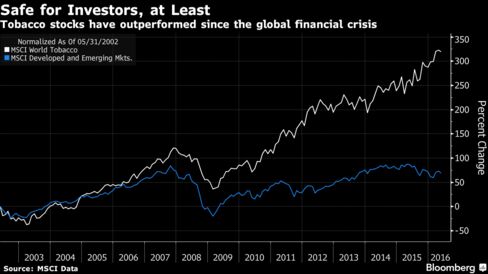 The MSCI World Tobacco Index, which comprises seven companies including Philip Morris International Inc. and British American Tobacco Plc, has risen more than any other industry group since 2002. Despite Big Tobacco's investments into e-cigarettes and potentially lower-risk alternatives to smoking, insurer Axa SA announced Monday it would stop investing in the sector due to the prevalence of smoking-related diseases. The company currently owns shares in the world's five largest publicly-traded tobacco firms, according to data compiled by Bloomberg.
Before it's here, it's on the Bloomberg Terminal.
LEARN MORE