Modi Ally Says India Ruling Party Backs Moves to Oust Rajan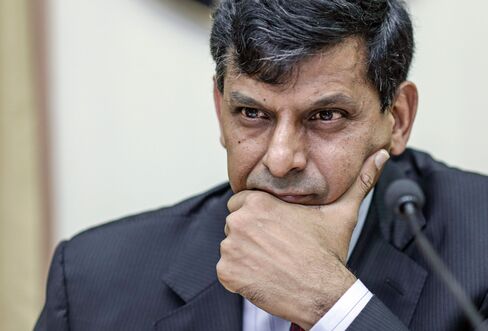 Subramanian Swamy says 'overwhelming majority' supports him

CEOs surveyed by Economic Times want second term for Rajan
The Indian lawmaker leading a charge to oust central bank Governor Raghuram Rajan says he's backed by the "overwhelming majority" of Prime Minister Narendra Modi's party, raising risks for investors in Asia's third-largest economy.
Subramanian Swamy, a member of Modi's ruling Bharatiya Janata Party and a rival to Finance Minister Arun Jaitley, wrote a letter to the prime minister earlier this week calling for Rajan to either be fired or dismissed when his term ends in September. The subsequent silence of Modi and his party indicates tacit support, Swamy said in an interview in New Delhi on Friday.
"Nobody has said a word against what I have said," said Swamy, 76, who formerly taught classes at Harvard University. "It's an overwhelming majority. Even the intellectuals in the party are in full support." He didn't name anyone specifically or elaborate on how he drew that conclusion.
While Jaitley on Tuesday declined to address Swamy's letter directly, he told ET Now news channel that a decision on Rajan would be taken without outside influence. The Finance Ministry and Reserve Bank of India have a "very mature level of consultation," Jaitley said, adding: "What is important are issues, not personalities."
Rajan Uncertainty
The uncertainty over Rajan's reappointment is a key risk for investors who credit him with taming one of Asia's fastest inflation rates, stabilizing the rupee and moving to clean up 8 trillion rupees ($120 billion) of stressed assets in the financial system. Rajan has been a key advocate of fiscal discipline and has called macroeconomic stability India's "single most important strength" in a time of global market turmoil.
"I do not think that Mr. Swamy's view will have a significant bearing on the reappointment," said Madan Sabnavis, chief economist at Mumbai-based Credit Analysis and Research Ltd. "I am sure that those involved in reappointment will use their economic judgment."
Alpana Killawala, a spokeswoman for the Reserve Bank of India, didn't respond to requests for comment. Calls to Jagdish Thakkar, a spokesman at the prime minister's office, weren't answered. Finance Ministry spokesman D.S. Malik declined to comment.
In a press conference on Thursday, BJP President Amit Shah declined to answer questions on Swamy's letter, telling reporters: "That is his opinion." G. V. L. Narasimha Rao, a spokesman of the BJP, referred to Jaitley's comments.
Rising Clout
While Swamy holds no formal position in Modi's government, his outspoken attacks against political foes, lawsuits to expose corruption and large Twitter following make him an influential player in Indian politics. Last month he was nominated for a position in India's upper house of parliament, indicating his rising clout within Modi's party.
"Rajan was building up a huge lobby to get a second term," Swamy said on Friday. "Somewhere -- I won't say where -- I got an indication that if you want to stop him, this is the time."
"My guess is Modi will find it very hard to extend it," Swamy said, referring to Rajan's term as governor.
Swamy said Rajan's push for a consumer-price inflation target -- which was adopted by Modi's government last year -- has hurt the economy. He said India should get rid of it and move toward an employment target instead.
Rajan Supporters
Swamy also continued to question Rajan's allegiance to India, saying his time at the University of Chicago and International Monetary Fund make him unfit to run India's central bank. In his letter to Modi, Swamy said that Rajan is "mentally not fully Indian."
As for possible replacements, Swamy named R Vaidyanathan, a professor at the Indian Institute of Management Bangalore, as among those who would be qualified to run the central bank. Vaidyanathan didn't immediately respond to an e-mail seeking comment.
Business groups this week started to push back against Swamy. Ninety percent of chief executive officers polled this week by The Economic Times newspaper said Rajan should get a second term when it expires in September -- a view shared by many economists.
"Politics apart, it's very important for the government to continue Rajan, more so when disturbances in the financial market are largely transmitted from external environment," said N.R. Bhanumurthy, an economist with the National Institute of Public Finance and Policy, a government-backed research group. "You should have a person who is more pragmatic and not stuck to some kind of ideology or theoretical background. Rajan has shown that pragmatism."
Before it's here, it's on the Bloomberg Terminal.
LEARN MORE