Biggest Nordic Banks Face Fintech Threat Amid Collector AB Drive
Collector Bank AB plans to add 80 to 90 employees a year to accommodate growth as the Swedish financial services-provider rolls out new technical solutions and products to challenge the largest banks.
Most of the recruitment will be at the IT unit, which currently accounts for 100 of Collector's 350 full-time employees, Chief Executive Officer Stefan Alexandersson said in an interview in Stockholm. To house the new staff, the company is adding temporary space in the coming weeks before moving to a new office in 2018, he said. Hiring is needed to keep up with growth, the CEO said, after revenue rose 30 percent last year.
"I've never seen such opportunities as I see now, during my whole time at Collector, when it comes to external factors," said Alexandersson, who started at the company in 2005 before becoming CEO in 2014. "Things are moving very quickly at Collector, but that's something one needs to have respect for. It is a risk for the company, that we won't cope, but so far it has gone well."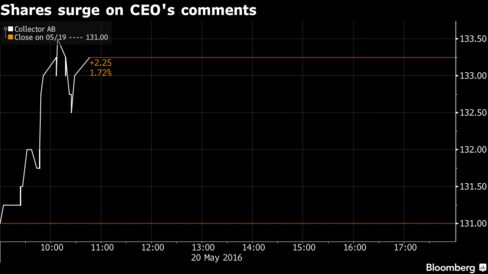 Collector is focusing on areas such as small and medium-sized companies, consumer loans and real estate credit at a time when large lenders such as Nordea Bank AB are preoccupied with upgrading their IT platforms. The company, which also provides services such as factoring, debt collection, deposits and card-and-payment solutions for retailers, says the IT platform it has developed gives it an edge over larger banks.
"If I'd invest in a bank I'd take a look at the IT system first," Alexandersson said, adding that some big banks rely on numerous systems just to handle their card business. "That just doesn't work out. Ten years ago these things weren't that important, now they're everything. You have to be able to quickly integrate new customers and products."
Collector claims it can give a small to medium-sized company a 100 million-krona ($12 million) credit in just four days, which is something "no larger bank could do." Bigger banks still haven't become more agile regarding small-and mid-sized companies "so the competition there has actually decreased, which has made it easier to win deals," Alexandersson said.
The company is not only hiring -- it's also currently investing in new products, which has led to higher expenses. While the cost-to-income ratio has declined recently, to 0.53 in the first quarter from 0.59 in the same period a year earlier, it can fall a lot further, according to Alexandersson.
"We could go a lot lower if we weren't investing so much right now but I still think the cost-to-income ratio will decrease because it's such a scalable business," he said. The ratio will decline and "trend toward 0.40 within a year or so."
Collector, which calls itself "a technology company with a bank license," was founded in 1999 and listed on the Stockholm stock exchange last year. Since the June initial public offering, the stock has more than doubled. The shares gained as much as 1.9 percent to 133.5 kronor in Stockholm trading on Friday, their steepest intraday gain since May 9, and traded 1.7 percent higher as of 10:57 a.m. local time.
Collector reported a 30 percent increase in first-quarter total income while profit gained 56 percent. The CEO is confident that the historical trend with organic sales growth of 30 percent will continue.
"Right now we have two products that have a strong, financial development -- real estate loans on the corporate side and consumer loans on the private side," Alexandersson said. "But within less than a year or so, I see other growth engines. Then it will be payments solutions on the private side and factoring and credit on the corporate side, and that shift will happen quickly."
Before it's here, it's on the Bloomberg Terminal.
LEARN MORE