Inside the New Apple Retail Store Design
Fifteen years after opening its first location, the company is trying to reboot the customer experience and, hopefully, re-ignite iPhone sales
You can buy an iPhone as you walk down The Avenue, enjoy a seminar with artists in The Forum, fix your laptop under the trees in the Genius Grove and get some training in The Boardroom. You've been in an Apple Store the whole time.
When Apple opened its first location 15 years ago, the company pioneered a spare, uncluttered layout—a look quickly copied (with varying degrees of success) by traditional chains. The stores confounded early expectations and helped Apple become one of the most admired consumer brands in history. Now iPhone sales are slowing, and the company is keen to upgrade a shopping experience that has lost some of its original magic.
The reboot was led by design chief Jony Ive and Angela Ahrendts, who worked at Burberry before joining Apple two years ago to run the retail operations. The new stores are supposed to evoke a town square (which, of course, malls have been evoking for years). The idea is that you go to the store, geek out on the gear and learn how it all works together. If the concept works as designed, you'll buy into Apple's ecosystem of hardware, content and services—at least for another few years.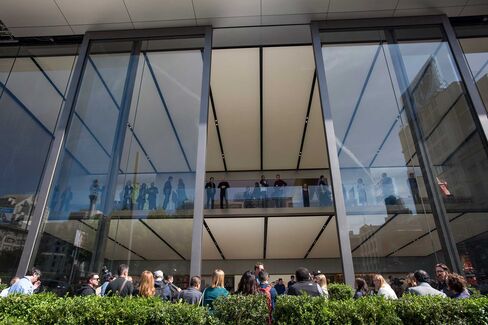 The flagship location, opening Saturday on San Francisco's Union Square, boasts 40-foot-tall doors opening onto the square and comprises five departments, or what Apple prefers to call "features."
The Avenue
This is where you'll buy your iPhone, iPad, Macbook or Apple Watch. Screens—"windows" in Apple jargon—explore music, creativity, apps and photography, while "Creative Pros" proffer advice on how to get the most out of your Apple products. You can also buy accessories here.
Genius Grove
Apple thought that the Genius Bar was too evocative of a noisy pub, so now the product experts will ply their trade under a canopy of trees in the Genius Grove.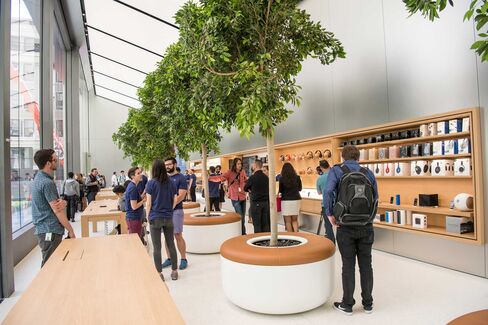 The Forum
The San Francisco store boasts a 35-foot-wide, high-definition video screen and will host game nights, music-video premieres as well as artists and musicians discussing their craft. Visitors will be able to enjoy the show from a few dozen wooden and leather stools designed by Ive's elite unit.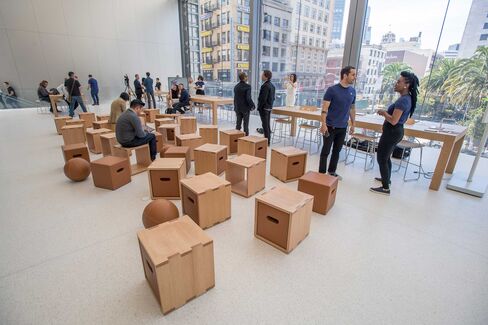 The Boardroom
This space extends Apple's push to attract business customers that has seen the company team up with Cisco, SAP and IBM in recent years. Entrepreneurs, developers and owners of small and medium-sized business can learn how to make the most of their iPad Pros and Mac Pros.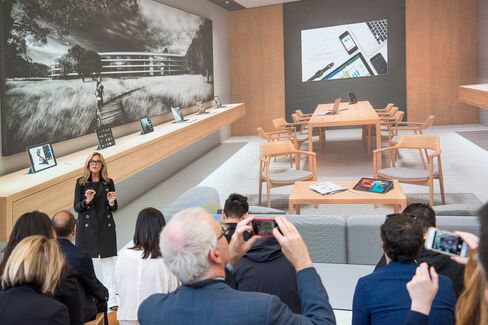 The Plaza
Only a few select stores will have this park-like space. Featuring round-the-clock free Wi-Fi, the plazas will host live concerts every few weekends. The San Francisco version is also home to a fountain by local sculptor Ruth Asawa.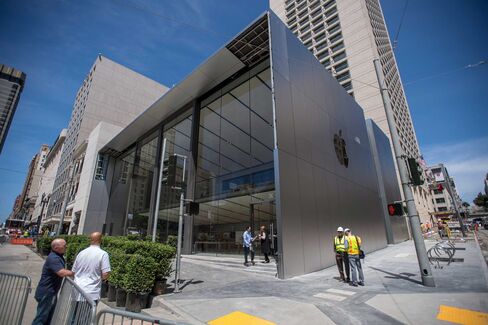 When Apple reported slowing iPhone sales earlier this year, Chief Financial Officer Luca Maestri said customers weren't upgrading their handsets as quickly as they once did. The new stores may not get every visitor to buy a new phone, but maybe the experience will persuade shoppers to stick with Apple when the time comes—rather than defecting to Samsung.



Before it's here, it's on the Bloomberg Terminal.
LEARN MORE