Vivendi Ups Hostile Gameloft Bid by 11% After Buying Stake
Offer price increased from to 8 euros per share from 7.2 euros

Vivendi now owns 29.4% of Gameloft's capital, 26.5% of votes
Vivendi SA raised its hostile bid for Gameloft SE to 8 euros a share, an 11 percent increase, as it seeks to build support for an offer that expires next week.
The offer was raised automatically from 7.20 euros under French rules after Vivendi purchased a small amount of stock on Thursday at the higher price, market regulator AMF said in a statement. Vivendi said it now owns 29.4 percent of Gameloft's capital and controls 26.5 percent of the votes. Gameloft shares fell 0.7 percent to 7.18 euros on Thursday before trading was suspended in Paris in light of the new offer. They will resume trading on Friday.
Vivendi upped its price to win over other shareholders before the offer closes on May 27, according to people familiar with the matter. That will put additional pressure on the Guillemot family, who control both Gameloft and larger gamemaker Ubisoft Entertainment. Analysts at Bryan Garnier have speculated that Gameloft may be a way for Vivendi and its chairman, Vincent Bollore, to force talks with the Guillemots and eventually negotiate a friendly takeover of Ubisoft.
Officials at Vivendi and Gameloft declined to comment. Gameloft will hold a board meeting in coming days to evaluate the Vivendi offer, said a person familiar with the matter who asked not to be identified discussing internal company deliberations.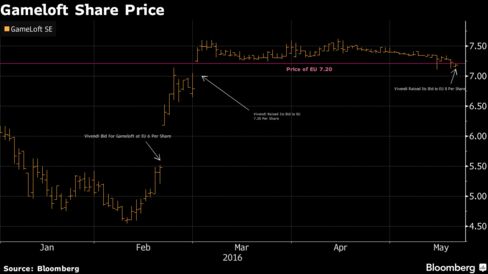 Gameloft in February rejected a takeover offer from Vivendi, setting the stage for a protracted takeover battle. Bollore, a billionaire and activist investor, began buying stock in Gameloft and Ubisoft without bothering to open discussions with Yves Guillemot and his brothers, who run both companies.
Ubisoft declined 0.9 percent 29.71 euros in Paris. Vivendi also dropped 0.9 percent, to 17.01 euros.
Before it's here, it's on the Bloomberg Terminal.
LEARN MORE