UniCredit Jumps as Bank Said to Weigh Fineco Stake Sale
Italian lender said to review bank holdings in Poland, Turkey

Final decision may only be taken after management change
UniCredit SpA jumped in Milan trading after people familiar said the bank is considering selling a stake in its online broker FinecoBank SpA and is reviewing its holdings in Poland and Turkey to raise capital.
UniCredit surged 5.2 percent to 2.94 euros at 12:44 p.m in Milan. The bank is looking at measures including selling as much as 15 percent of Fineco, the people said, asking not to be identified because the discussions are private. The bank is also mulling the disposal of stakes in Turkey's Yapi ve Kredi Bankasi AS and Bank Pekao SA in Poland, they said. No decision has been made and a possible management change may affect the outcome, they said.
Investors are seeking to replace Chief Executive Officer Federico Ghizzoni, people familiar with the matter have said. While the CEO, 60, is eliminating thousands of jobs and selling assets to comply with tougher regulatory requests, he has repeatedly ruled out a share sale, leaving UniCredit among Europe's least capitalized banks.
"This potential move could reflect the priority of the board -- minimize the potential capital increase as a number of core shareholders either do not have or do not want to put more money at work in UniCredit," analysts at Mediobanca SpA with a neutral recommendation on the shares, wrote in a note on Friday.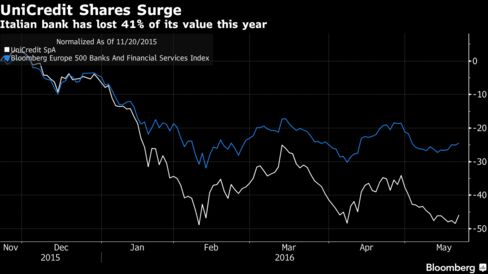 The shares have dropped 41 percent this year, making them the fourth-worst performers on the Bloomberg Europe Banks and Financial Services Index, which fell 21 percent. Fineco, Yapi ve Kredi and Bank Pekao all decreased on Friday.
The bank's 1 billion euros of additional Tier 1 notes rose 3 cents on the euro to about 85 cents on Friday. Investors have been cautious about the bonds, the first securities to take losses if UniCredit runs into trouble, because of fears that low capital levels would force the bank to stop interest payments.
To help shore up capital levels, UniCredit said on Tuesday it will repurchase up to 700 million euros ($785 million) of additional Tier 1 and Tier 2 bonds maturing from 2018 to 2021. The lender repurchased 1 billion euros of notes from retail investors in February.
In 2014, UniCredit raised 673 million euros, when it sold a 30 percent stake in Fineco. It still owns 66 percent of the broker. A 15 percent stake would be valued at about 600 million euros based on current market prices.
Reichlin, Morelli
The bank's governance committee has scheduled a meeting on June 1 to formalize the process of replacing Ghizzoni, according to the people. He was appointed as CEO in 2010. A spokesman for UniCredit declined to comment.
Lucrezia Reichlin, a member of the UniCredit board and the European Central Bank's former head of research, could be named chairman, while Marco Morelli, head of Bank of America Corp.'s Italian operations and former chief financial officer of Banca Monte dei Paschi di Siena SpA, may be considered to replace Ghizzoni, according to Italian media reports.
UBS Group AG CEO Sergio Ermotti told La Stampa in an interview published on Friday that he's not interested in the role at UniCredit.
UniCredit's common equity Tier 1 ratio, a measure of financial strength, fell to 10.5 percent at the end of March from 10.7 percent three months previously. It may slip a further 0.2 percentage points if its 1 billion-euro stake in Atlante, Italy's government-orchestrated bank-rescue fund, is fully invested, Ghizzoni said last week. The bank has the smallest capital margin among Italy's largest lenders, with the ECB requesting a 10 percent ratio for 2016.
The asset disposals "would represent a worse solution than a capital hike as it would deprive the group of exposure to high growth businesses with a strong strategic value," Giovanni Razzoli, an analyst at Equita SIM SpA with a hold recommendation on the shares, said in a note on Friday. "The replacement at the top would be preparatory to a capital increase and not the sale of assets."
Before it's here, it's on the Bloomberg Terminal.
LEARN MORE