Cryan Sees Deutsche Bank Weathering Overhaul Without Share Sale
Cryan says convinced bank able to transform with 'own funds'

Bank has tapped investors three times since financial crisis
Deutsche Bank AG co-Chief Executive Officer John Cryan signaled Europe's biggest investment bank can carry out its overhaul without tapping investors for cash.
"The implementation of our strategy is showing clear progress," Cryan said at the company's annual shareholder meeting in Frankfurt on Thursday. "We're sticking to our goals for 2020 of becoming less complex and more efficient with lower risk and a stronger capital base. We're convinced we can realize this transformation with our own funds."
Cryan is eliminating thousands of jobs and selling assets to boost profitability, hurt by charges tied to past misconduct and a slump in trading revenue. While the co-CEO has already called 2016 a "peak restructuring" period and said Deutsche Bank may post another loss, the shares have lost about a third of their value this year, partly amid concerns that the lender will have to tap investors for a fourth time since 2010.
"The tough currency for confidence on capital markets is the core capital ratio," Ingo Speich, a fund manager at Union Investment, which owns the lender's stock, said at the meeting. "But Deutsche Bank is suffering from a chronic shortage of capital."
Capital Increases
Deutsche Bank has raised 21.7 billion euros ($24 billion) through three capital increases since the global financial crisis forced lenders from Commerzbank AG to Royal Bank of Scotland Group Plc into bailouts. That's above the bank's market value of 20.7 billion euros.
The lender is stuck in a vicious circle as Cryan seeks to overhaul an impaired business that needs more capital, James Chappell, an analyst at Berenberg wrote in a note on Monday. He cut his rating to sell from hold and reduced his target price for the stock to 9 euros per share, the lowest among more than 30 analysts tracked by Bloomberg.
Deutsche Bank rose 1.5 percent to 14.97 euros at 4:18 p.m. in Frankfurt. The shares have lost about 34 percent of their value this year, while the Bloomberg Europe Banks and Financial Services Index dropped about 20 percent in that period.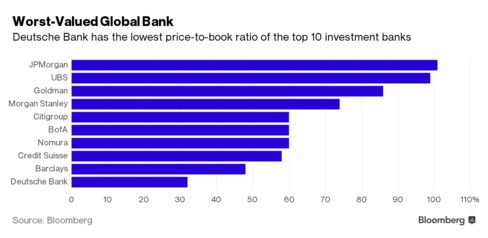 Cryan said he will exit parts of the company's trading business that don't offer sufficient returns given the capital they consumes. Still, the global-markets unit, led by Garth Ritchie, "represents an indispensable element of our strategy," the co-CEO said.
Europe's largest banks have been shrinking their securities businesses, hurt by volatile markets and tougher capital requirements. Cryan has split the investment bank into a trading division and a business advising clients on the sale of stock and bonds as well as mergers while exiting parts of the fixed-income unit. He stopped short of following rivals such as Credit Suisse Group AG and Barclays Plc in imposing deeper cuts.
Deutsche Bank's reorganization last year sparked debate about whether the steps may be a "precursor to much more aggressive cuts" to the global-markets unit, Otto Dichtl, an analyst at Stifel Nicolaus Europe Ltd., told Francine Lacqua on Bloomberg Television on Thursday. "The commitment today that it is and remains core to Deutsche Bank is certainly a significant step."
Germany's largest lender will "concentrate our efforts on around a third of our clients, who already produce 98 percent of our revenues today" at the securities unit, Cryan said. The company will withdraw from its capital markets business in Russia by mid-year, he said.
'Cautiously Confident'
Cryan also said that additional controls imposed across the bank, intended to prevent a repeat of the misconduct that's sparked 12.6 billion euros of legal expenses and provisions since 2012, "cost us business in the short term." Still, exercising caution will "pay off in the long run," he added.
"I am cautiously confident that we are gradually approaching the home straight as far as our litigation is concerned," Cryan said. "We expect to be able to conclude a number of key cases this year."
Cryan, a former chief financial officer of UBS Group AG who sat on Deutsche Bank's supervisory board, replaced Jain as co-CEO last year. Under his leadership, the company has overhauled its management structure, with the departures of Colin Fan, the co-head of the investment banking and trading unit, as well as Michele Faissola, the head of the asset and wealth-management business. Stefan Krause, a longtime executive, also left.
"It was obvious that the credibility of key managers had suffered both in your eyes and in the eyes of our regulators," Paul Achleitner, who chairs the supervisory board, told investors. Achleitner said he would stand for re-election once his term is up for renewal.
While Achleitner deserves praise for appointing Cryan, the chairman should have prevented a dispute on the board that emerged last month, according to Speich. Georg Thoma, a director who oversaw a committee probing wrongdoing, resigned last month after deputy Chairman Alfred Herling accused him of being "overzealous."
The supervisory board spent 13.4 million euros on "legal and forensic" advisers last year and has about 90 external consultants from 16 firms, Achleitner said. Shearman & Stearling LLP, the law firm Thoma works for, wasn't mandated, the chairman said.
"We need a strong and profitable Deutsche Bank in Europe which is close to its clients and can offer global services," Andreas Thomae, a fund manager at Dekabank, which is among the company's biggest shareholders, said at the meeting. "The task of making the bank slimmer, more efficient and more focused is immense and not easy."
Before it's here, it's on the Bloomberg Terminal.
LEARN MORE