U.S. Boutiques Take Lead in Restructuring Brazil Fallen Giants
PJT, Moelis, Houlihan Lokey get lion's share of advisory work

Banks help bondholders, firms in resolving about $21 billion
Three U.S. investing banking boutiques are dominating the business of advising bondholders and companies through the biggest wave of debt restructuring in Brazil's history.
PJT Partners Inc., Moelis & Co. and Houlihan Lokey Inc. are helping to renegotiate about $21 billion of the $27 billion in international debt that's gone bad in Brazil during the nation's worst recession in a century.
"U.S. firms have the competitive advantage of knowing international investors and U.S. bankruptcy procedures better than local players, and at the same time have no conflicts of interest because they don't provide any type of credit or underwriting to Brazilian firms," Nick Leone, a partner in the restructuring and special-situations group at PJT, said in an interview in New York.
Bankruptcy filings reached a record in Brazil this year as a credit squeeze left many firms without access to financing. The weaker currency is making it harder for companies to pay back dollar-denominated debt, which more than doubled since 2007 to about $120 billion. At the same time, profit and revenue at many of the biggest corporations tumbled after a two-year economic downturn and political crisis, including the impeachment last week of President Dilma Rousseff, paralyzed economic-reform efforts.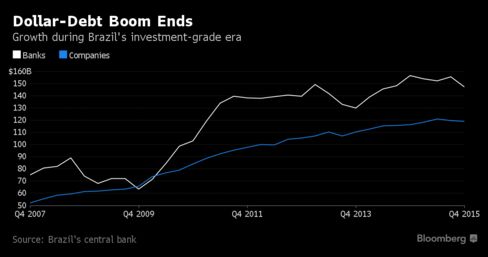 Moelis opened its office in Sao Paulo in March 2014 and has about 15 employees in the country, said Otavio Guazzelli, the New York-based firm's co-head of investment banking for Brazil, who previously led that business for Citigroup Inc. and local firm BR Advisory Partners Participacoes SA. Jorio Salgado-Gama, who co-heads the business with Guazzelli, is the former leader of BR Partners' merger-and-acquisition advisory business and also worked at Citigroup.
Moelis is advising on the biggest restructuring in Brazil, representing bondholders of Oi SA, the nation's most indebted phone company, with about 49.4 billion reais ($14.2 billion) of debt as of March. It's also helping companies in local negotiations, including Log-In Logistica Intermodal SA, the logistics company that's refinanced 481 million reais in bank loans.
"We are continuing to expand our office in Brazil as our strategic and financial-advisory business is very active right now," Guazzelli said, adding that a "a relevant local presence is a key competitive advantage because it helps us to better understand clients' priorities." He declined to comment on specific cases.
Oi Deal
PJT, a New York-based investment bank that doesn't have an office in Brazil, is advising Oi on how best to restructure its debt, the company said in a statement March 10. The bank is also advising Gol Linhas Aereas Inteligentes SA, which has debt of $2.6 billion, and Odebrecht Oil & Gas SA, with $3 billion in international bonds, according to the companies.
C.J. Brown and Nick Leone, who joined PJT as partners from Blackstone Group LP, lead the Brazil restructuring business. While at Blackstone, they advised former billionaire Eike Batista's oil and gas company, OGX, in its record-breaking 2013 bankruptcy case, which included $3.6 billion in international bonds.
PJT in August hired Morgan Stanley's Latin America chairman, Christopher Harland, as a partner for the merger-and-acquisition advisory team. Harland, who spent 32 years at Morgan Stanley, finished his garden leave at the end of last month and can now help PJT's restructuring team in selling assets for Brazilian firms.
Houlihan Lokey
Derek Pitts, a managing director at Houlihan Lokey, is advising bondholders at Gol, Odebrecht Oil & Gas and Grupo Schahin. The Los Angeles-based investment bank has no offices in Brazil, but maintains partnerships with local restructuring boutiques. Pitts said Houlihan Lokey might increase its investments in Brazil, without specifying how.
PJT and Houlihan Lokey also declined to comment on specific clients.
U.S. investment-banking boutiques face competition from local advisory firms such as G5, in which Evercore Partners Inc. has a 47 percent stake. It was hired last year by building companies Engevix Engenharia SA and OAS SA, two victims of the bribery scandal at state-owned oil company Petroleo Brasileiro SA.
Rothschild has been also playing a role in the business of renegotiating debt for Brazilian companies, helping firms such as PDG Realty SA Empreendimentos e Participacoes, once the largest Brazilian homebuilder by revenue, restructure its 5.8 billion reais of debt.
Kenneth Moelis
Moelis was founded by former UBS AG banker Kenneth Moelis and did its initial public equity offering in March 2014.
PJT was formed last year, when Paul J. Taubman merged his firm with the advisory business of Blackstone and the combined company was spun off from the private-equity giant. The investment bank began trading as an independent firm on the New York Stock Exchange in October.
Brazil's corporate credit crisis is poised to endure as long as the economy contracts and interest rates remain high. Companies seeking legal protection from their creditors surged to 571 this year through April, an increase of 97.58 percent over the same period of 2015, according to data provider Serasa Experian.
"Even in this difficult environment, some companies wait too long to start the restructuring negotiations with creditors, leading to a more difficult and complex solution," Moelis's Guazzelli said.
Before it's here, it's on the Bloomberg Terminal.
LEARN MORE