Ministry Loses Control of Memphis Slums After Bond Default
Foresite Realty Management appointed by federal judge

Receiver should renovate and sell properties, judge orders
A U.S. judge appointed a receiver to manage and eventually sell two low-income apartment complexes in Memphis that lost federal subsidies because of numerous health and safety violations, which triggered a default on municipal bonds backed by the project.
U.S. District Court Judge Jon McCalla appointed Foresite Realty Management to serve as receiver, according to an order dated Tuesday. Bank of New York Mellon Corp, the trustee for about $12 million bonds, recommended Foresight's appointment. Bank of New York sued the owner of the apartments, Global Ministries Foundation, on May 6, seeking the receiver's appointment.
In March, the U.S. Department of Housing and Urban Development cut off rent subsidies for more than 1,000 residents and said it would relocate them because of violations including roach infestation, broken windows and exposed wiring. As a result, the bonds repaid with the subsidies defaulted, causing the price to tumble to as little as 21 cents on the dollar.
Related Story: In Roach-Infested Slums, a Muni-Bond Default Spurs Big Questions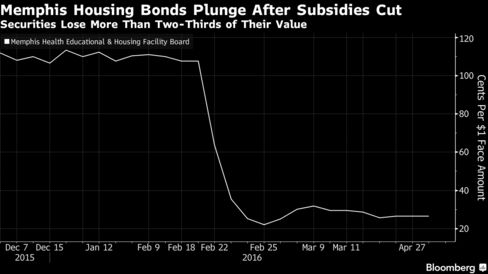 The order, which had consent from both Bank of New York and Global Ministries, said the receiver's first priority should be restoring the Warren and Tulane apartments into a "decent, safe and sanitary condition." The receiver should also start marketing the complexes for sale, according to the order.
The receiver's duty is to get the highest price for the 448-unit properties, with no preference to whether the buyer will operate the apartments as federally subsidized housing, the order said.
Audrey Young, a spokeswoman for GMF, said the organization agreed to the appointment of the receiver and will work with it "for the best interests of the properties and their residents."
Before it's here, it's on the Bloomberg Terminal.
LEARN MORE