Japan Seeks to Boost Workforce by One Million in Next Four Years
Government releases plan to increase female, elderly workers

Risk that labor force could collapse by 40 percent by 2060
Japanese Prime Minister Shinzo Abe on Wednesday set out a plan to get 1.17 million more people into the workforce by the fiscal year starting April 2020.
The government released a draft of the plan to tackle the nation's aging labor force by increasing the number of women and elderly workers. Higher minimum wages and the provision of more care for children and the elderly are key elements of the program "to promote dynamic engagement of all citizens."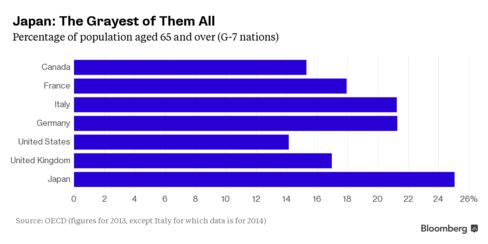 The government's aim is to stop the total population from falling below 100 million from the current 127 million. While the labor force is currently steady at around 65 million, a failure to buck current trends could see it collapsing by more than 40 percent by 2060, according to projection by a government panel. One bright spot is female participation, which has risen to around 50 percent from 47 percent in January 2013 -- the month after Abe came to power.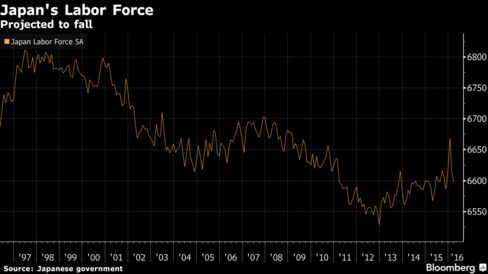 With mass immigration still off the table, Abe has touted women as key to boosting the the world's third-largest economy, setting a target of having female workers in 30 percent of supervisory positions in all fields by the time Tokyo hosts the 2020 Olympics. Another challenge for Abe is that the number of people who have to leave their jobs to care for elderly relatives is set to balloon as the nearly 7 million-strong baby-boomer generation moves into old age in the coming decade.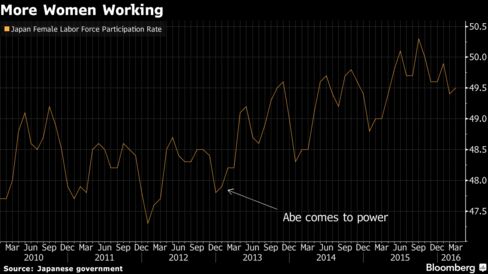 "The government's figure is challenging but it's not impossible," said Masamichi Adachi, an economist at JPMorgan Chase & Co. and a former central bank official. "Baby-boomers are extremely healthy compared with people their age 10 or 20 years ago, and they can physically stay in the workforce longer. It's also becoming more natural for women to stay in work."
Also under the plan, the government:
Will aim to raise minimum wages by 3 percent a year, seeking a national weighted average of 1,000 yen ($9.15)
Will seek pay levels for part-time workers no lower than those in Europe, and change laws to achieve equal pay for equal work
Before it's here, it's on the Bloomberg Terminal.
LEARN MORE