Yuan's 17% Devaluation Versus Yen Turns BOJ Pain Into China Gain
Surge in Japanese currency is hurting nation's exporters

Kuroda's options seen limited as China has room to ease
Haruhiko Kuroda's pain is China's gain.
The Bank of Japan Governor's efforts to bolster economic growth have been undermined by the yen's surge, which outstripped all other Asian peers this year and spurred carmakers to project lower-than-estimated profits. That's a tailwind for China after the yuan dropped this month to the lowest level versus the yen since 2014. The world's biggest exporter posted a second straight month of rising overseas shipments in April.
QuickTake The People's Currency
For Bank of America Corp. and HSBC Holdings Plc, the yen's ascent against the yuan is set to continue because the People's Bank of China is in a stronger position to keep a lid on its currency than the BOJ. Japan's interest rates are already below zero, while Chinese borrowing costs are the highest among the world's seven biggest economies.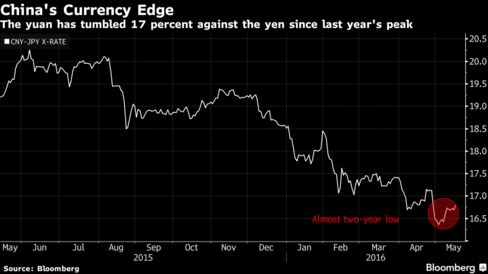 "Japanese monetary policy has become hamstrung unless there's a much more radical approach," said Claudio Piron, Singapore-based co-head of Asia currency and rates strategy at Bank of America. "China doesn't even have to resort to anything as exotic as quantitative easing and reaching out to unorthodox measures like Japan has."
After years of low borrowing costs failed to revive Japanese growth, Kuroda unveiled a bond-buying program in April 2013, added to it in October of the following year, and adopted negative interest rates in January.
Growth Concern
While the central banker's early measures succeeded in driving the yen lower through last June, the Japanese currency has strengthened since then amid jitters over weak global growth and reduced bets on Federal Reserve rate increases. Kuroda shocked markets when he held off from adding to the stimulus program at a meeting last month, sending the yen to its biggest gain in six years.
"Japan has been caught in the fallout of a less strong dollar," Alan Ruskin, New York-based head of G-10 currency strategy at Deutsche Bank AG, wrote in a note. He predicts the yuan will continue to fall after weakening 17 percent from a 22-year high last June. The yuan rose 0.16 percent against the yen as of 4:51 p.m. Shanghai time on Wednesday, while official data showed Japan's gross domestic product exceeded all estimates to expand an annualized 1.7 percent in the three months ended March 31.
Yen Surge
Japan's stronger currency is starting to hurt exporters. Honda Motor Co. said last week profit in the year to March 2017 will fall short of the 574.2 billion yen ($5.2 billion) average estimate in a Bloomberg survey of analysts, while Nissan Motor Co. forecast annual profit that would be little changed after the higher yen eroded overseas earnings.
Japan's outbound shipments have fallen for each of the past six months through March, while China's exports climbed 4.1 percent in yuan terms in April. Companies in the two countries compete in overseas markets.
The yen has recently begun to give back some of its gains against the yuan. The Japanese currency tumbled on May 9 after Japan's finance minister said the government can intervene to stabilize foreign-exchange markets if necessary. The yen also slid after improving U.S. retail sales and consumer confidence fueled speculation of more interest-rate increases by the Fed.
China's Limits
China's leaders are signaling there are limits to how much they can do to buoy growth. The People's Daily, the Communist Party's mouthpiece, damped hopes for more monetary easing with a front-page article warning about the nation's high levels of debt, while new credit in April fell to a six-month low.
Still, the central bank reiterated in a statement on Saturday that monetary policy would continue to support the economy. Chinese banks are still setting aside 17 percent of their deposits as reserves, while the PBOC's benchmark one-year lending rate is at 4.35 percent.
China's capacity to ease monetary policy further will keep pushing the yuan lower versus the yen, according to Ju Wang, a foreign-exchange strategist at HSBC in Hong Kong.
"Compared with the U.S. and Japan, the room for easing is quite high in China," Wang said. The BOJ's monetary stimulus "has already reached the limits."
Before it's here, it's on the Bloomberg Terminal.
LEARN MORE