Venezuela Avoiding Default Means More Misery as Shortages Worsen
Country to reduce imports to about $20B, lowest since 2004

Eurasia, EMSO say cuts will allow nation to pay debt in 2016
Cash-strapped Venezuela's move to slash imports to a 12-year low may allow it to avoid a default this year but will almost certainly exacerbate shortages of everything from medicine to toilet paper.
The Andean nation will cut purchases of overseas goods to about $20 billion from $37 billion in 2015, Vice President for Economic Policy Miguel Perez Abad said last week.
The reduction means Venezuela will have enough cash to honor its bond payments in 2016, according to Eurasia Group and EMSO Asset Management. Eurasia had predicted the country could halt debt payments this year in the face of low oil prices and the worst recession in decades. Swaps traders now put the chances Venezuela will default over the following year at 63 percent, down from 83 percent in February. But while chopping imports is bolstering the country's ability to pay debt, it's making life harder for Venezuelans contending with empty supermarket shelves and the world's fastest inflation, forecast to rise to close to 500 percent this year by the International Monetary Fund.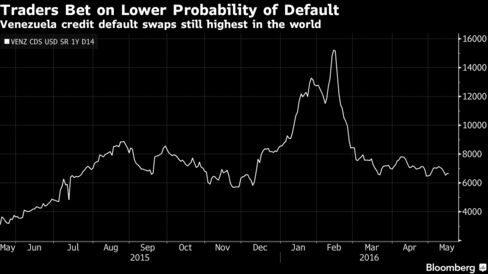 Venezuela has "continued to surpass anyone's expectations in terms of just how low they're willing to take imports and how much pain they're willing to inflict," said Risa Grais-Targow, an analyst at Eurasia. "The most politically sensitive imports are obviously basic goods and medicine -- in particular medicines are becoming more problematic in terms of managing political dynamics. That is definitely a potential liability for the government."
Perez Abad said officials aren't sacrificing basic living standards to pay bondholders.
"Food, pharmaceuticals and personal-hygiene products are guaranteed," he said in an interview at his office in Caracas on May 13. "It's not something we are worried about. We're going to maintain this level of import restrictions as a policy to force the productive apparatus of the economy to increase output."
Perez Abad also said Venezuela will continue to use international reserves, which hit a 13-year low of $12.2 billion, to help meet its commitments. Reserves are down from $16.4 billion at the end of 2015. China has agreed to ease some terms on bilateral financing agreements to "take account of changes in international oil prices," Xinhua reported, citing Foreign Ministry spokesman Hong Lei.
In Venezuela, bachaqueros are making a living by buying up basic goods at government-set prices and hawking them privately in the black market. The Caracas polling firm Datanalisis says more than one-fourth of the population has engaged in the practice over the past year.
On Monday, White House spokesman Josh Earnest said conditions for people in Venezuela are "terrible." The White House is "quite concerned about the well-being of the people of Venezuela and we stand with the international community in expressing that concern," he said.
Earlier this month, Venezuela's opposition said it had cleared the first hurdle in a drive to remove President Nicolas Maduro from office. The opposition says almost 2 million people signed a petition calling for a recall process to start, far outstripping the 200,000 required by law. The opposition is waiting for the electoral authority to verify the signatures and then must collect almost 4 million signatures, or 20 percent of registered voters, to force a referendum vote.
While Venezuela may be able to avoid a default in 2016, next year is an "open question," according to Patrick Esteruelas, head of research at EMSO, which oversees $3 billion.
"The government is going to bend over backwards to continue staying current on its debt obligations," he said. "Next year's ability to pay will depend on a number of imponderables such as where oil prices will be and if the current government will still be in office."
Before it's here, it's on the Bloomberg Terminal.
LEARN MORE