HSBC: Europe's Fiscal Rules Ought to Apply to Overly Frugal Governments Too
Germany's saving is the bigger problem than other countries' spending.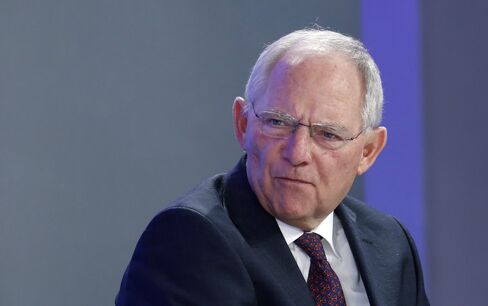 It's that time of the year again.
The European Commission is slated to publish its evaluation of how member states are living up to their fiscal obligations by the end of the month.
The European Union's fiscal rules mean that governments face potential financial penalties if they fail to hit certain targets, such as keeping their deficit below 3 percent of GDP. But this time around the European Commission's contending with a fractious and divided political backdrop, so its bark is likely to be worse than its bite, according to HSBC Holdings Plc European Economist Fabio Balboni.
"With new elections in Spain and the rise of anti-austerity and eurosceptic parties across the eurozone, E.U. policy-makers will be wary of the possible political consequences of implementing the rules too rigidly," writes Balboni. "A little more austerity put on the table by the governments is likely to do the job."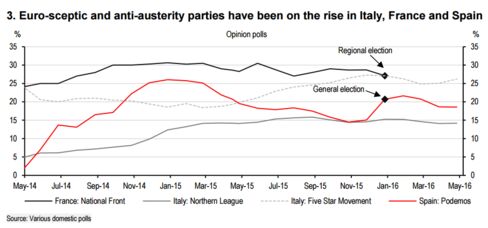 The Commission is also likely to recommend measures to bolster the Italian, Portuguese, French, and Belgian governments' fiscal positions, the economist added.
Balboni notes that the Commission has been reticent to enforce penalties on non-compliant nations. But the bigger issue, he says, is that it has also been loath to discuss the flipside of this coin and scold countries that keep the national purse strings very tight.
"While it makes sense to curb public spending in those countries, the problem is that there are no rules and sanctions for those that head in the other direction—i.e. that don't spend enough. Germany is the obvious example," writes Balboni. "The asymmetry of the fiscal rules governing the eurozone is therefore exerting disinflationary forces within the monetary union, and also on the global economy."
Europe's largest economy saves too much. That's not just the view of former Fed Chairman Ben Bernanke or economists at Credit Suisse Group AG, but also going by the E.U.'s recommended levels for countries with debt-to-GDP ratios in the neighborhood of Germany's.
The euro area's ample current-account surplus "reflects the lack of domestic demand—and in particular the weakness of investment —which in turn will make it very difficult for the ECB to reach its inflation target of 'below but close to 2 percent,'" Balboni writes.
Meanwhile, without the "fiscal slippages"—that is, some countries failing to hit their deficit reduction targets, growth in the euro zone would have been closer to 1 percent rather than the reported 1.5 percent in 2015, the economist estimates.
Before it's here, it's on the Bloomberg Terminal.
LEARN MORE