Hertz Surges as CEO Tague Leads Share Purchases by Executives
Finance, revenue chiefs also buy car-rental company's stock

Tague spends about $517,000 for 66,000 shares, filing shows
Hertz Global Holdings Inc. climbed the most in 10 months after Chief Executive Officer John Tague and two other top managers bought at least 40,000 shares each of the struggling car-rental company's stock.
The stock gained 15 percent to $8.84 at 11:54 a.m. New York time after rising as much as 16 percent for the biggest intraday increase since July. Hertz declined 46 percent this year through Monday as an oversupply of vehicles has pressured the company's rental pricing.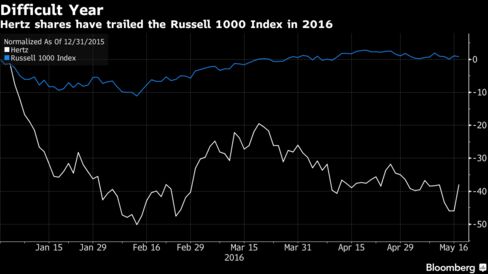 Tague, Chief Financial Officer Thomas Kennedy and Chief Revenue Officer Jeffrey Foland signaled confidence in the company's prospects with the purchases of a total of $1.32 million of the shares. Tague took over as CEO in November 2014 after accounting failures caused Hertz to restate more than two years of financial results. He has been cutting costs to help withstand pressure on rental-car prices in the U.S.
Avis Budget Group Inc., Hertz's biggest publicly traded competitor, also rose Tuesday, gaining 6.9 percent to $26.74.
Tague bought a total of 66,000 shares on Friday and Monday for about $517,000, raising his holdings to 200,200 shares, a regulatory filing Tuesday showed. Foland bought 65,000 shares for about $496,000 on Friday, while Kennedy purchased 40,000 shares for about $310,000, according to filings. Foland's acquisition is his first for the stock, and Kennedy's increased his total to 106,000 shares.
The Estero, Florida-based company reduced its forecasts for U.S. rental-car revenue in April amid intensifying pricing pressure in the first quarter, boosting skepticism about the company's outlook. At the time, Tague said industry capacity would become moderate, setting the stage for a better peak season this summer.
Before it's here, it's on the Bloomberg Terminal.
LEARN MORE