Consumer Prices, Home Construction Rise: U.S. Economic Takeaways
Rising costs at gas pump fuel biggest gain in CPI since 2013

Increase in housing starts consistent with see-saw pattern
What you need to know about Tuesday's U.S. economic data:
CONSUMER PRICE INDEX (APRIL)
Rose 0.4 percent (forecast was 0.3 percent), most since February 2013
Increase driven by higher prices for gasoline, rents and medical care
Core CPI, which excludes food and fuel, advanced 0.2 percent after 0.1 percent gain
CPI increased 1.1 percent year over year; core CPI up 2.1 percent
The Takeaway: Inflationary pressures are starting to stir. Gasoline costs posted the biggest advance since August 2012, which may signal the salad days of ultra-cheap prices at the pump are over for American consumers. Stripping out fuel and food, the gain in so-called core consumer prices was propelled by services, with costs for rents, medical care, auto insurance and airline fares all increasing. Prices for goods -- such as household furnishings, which fell the most since in six years -- acted as a check on the CPI's advance. Federal Reserve policy makers will likely want to see whether the higher prices stick as they consider the appropriate time to raise interest rates again.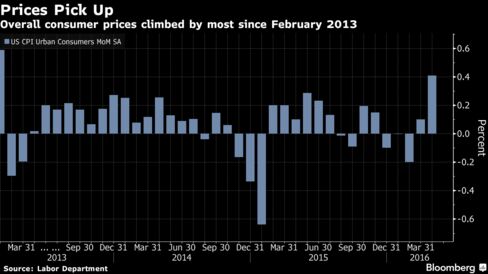 HOUSING STARTS (APRIL)
Rose 6.6 percent to an annualized rate of 1.17 million units (forecast was 1.13 million)
Building permits increased 3.6 percent to a 1.12 million rate
Starts of single-family homes rose 3.3 percent, while construction of multifamily projects such as apartments jumped 13.9 percent
The Takeaway: The data are prone to month-to-month swings, and the past year has been no exception. While the pickup in starts and applications for new construction are a relief after an early-year slump, the figures have see-sawed within a narrow range, yielding little sign of rapid housing growth. Residential real estate that's still healing from the 2008 crash has failed to provide a promising growth spurt for the U.S. economy, and now depends in part on further gains in a labor market that looks to be cooling.
INDUSTRIAL PRODUCTION (APRIL)
Rose 0.7 percent (forecast was 0.3 percent), most since November 2014
Output at factories alone, which makes up about 75 percent of total production, climbed 0.3 percent after a similar decline in March
Utility output surged 5.8 percent, most in more than nine years, as electricity demand returned to normal
Mining production dropped another 2.3 percent, marking the 14th month in the last 16 that it's declined
The Takeaway: The worst of America's manufacturing slump is probably over, with a decline in the dollar this year likely to provide relief for export-oriented producers. Oil and gas well drilling was down another 6.8 percent in April and off a whopping 52 percent over the past year, indicating there's probably little room for further cuts in the energy sector. Even with the recent stabilization in production, factories may do little to add to economic growth as they continue to face still-soft overseas markets, while other businesses contend with elevated inventories.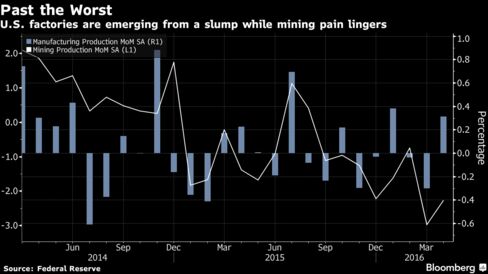 Before it's here, it's on the Bloomberg Terminal.
LEARN MORE