The 42-Year History of Saudi Arabia's Treasuries Holdings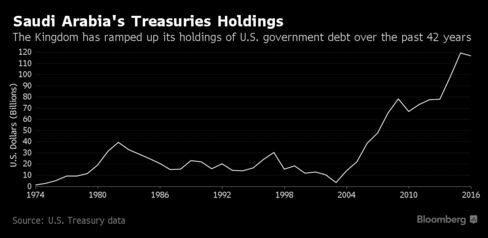 Saudi Arabia's holdings of U.S. government debt are close to record highs, according to data the Treasury disclosed Monday after 42 years in response to a Bloomberg Freedom of Information Act request. The kingdom held $116.8 billion of Treasuries at the end of March, down 6 percent from a record $123.6 billion in January. The data does not include Saudi Arabian Treasuries held either with the Federal Reserve Bank of New York or potentially in custodial accounts in nations such as the U.K. and Luxembourg.
Before it's here, it's on the Bloomberg Terminal.
LEARN MORE