'It's some of the best news that we've gotten,' one says

Deal seen as extinguishing ongoing fears of U.S. market exit
The chairman of Mitsubishi Motors Corp.'s U.S. National Dealer Council's Advisory Board said he sees new life for the brand after Nissan Motor Co.'s $2.2 billion stake.
"Anybody that ever said Mitsubishi is not going to make it in the U.S., they can go ahead and rewrite their article," Ryan Gremore, who runs a Mitsubishi dealership in Normal, Illinois, said in a telephone interview. Even before the recent fuel-economy scandal, fears of a U.S. exit had mounted as the automaker's product line aged, reminding dealers of Isuzu Motors Ltd. and Suzuki Motor Corp. before their U.S. exits in the past decade. As chairman of the council, Gremore represents the interests of the 361 Mitsubishi dealers in the U.S. "We're not going anywhere," he said.
U.S. Mitsubishi dealers have survived a trying history, with the recent fuel-economy fraud in Japan adding to a list of woes including a rocky partnership with DaimlerChrysler AG, a risky financing strategy, a defect coverup and multiple bailouts by the Mitsubishi group companies. The investment by Nissan could bring about a new crop of Mitsubishi models that would give retailers the boost they need, Gremore said.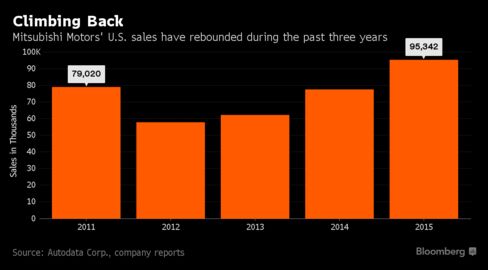 "The dealers that are making it right now -- and there's a lot of us -- are doing it with very, very little" compared with the vast lineups of giants like Toyota Motor Corp., he said. "Literally, if you gave us three more products, you would double our entire lineup."
Mitsubishi has struggled in the U.S., where sales last year remained 26 percent below the 2007 level of 128,993. Through April of this year, the brand had 0.6 percent of the market where its bigger and healthier Japanese peers earn much of their profits. In recent years, the company prioritized expansion into markets like Thailand and Russia over honing its U.S. strategy, Gremore said.
Rallying Hope
Now he's rallying the U.S. retailers, about half of which are stand-alone Mitsubishi dealers, about the potential of the Nissan partnership. Gremore said he liked what he heard in last week's joint press conference about Nissan's plans to keep the brands intact and offer support to Mitsubishi as it grows. That could calm the concerns of some dealers that Nissan would strip Mitsubishi of its key assets or close many of its U.S. dealerships.
Rhett Ricart, a Mitsubishi and Nissan dealer, said last week that he was optimistic about the deal, but wary until he knows more details.
"With Nissan buying them, am I joyous? Well, I'll be joyous after I see what their plans are," said Ricart, an Ohio-based member of the National Automobile Dealers Association's board. "If they decided to say, 'Well, we're just going to buy Mitsubishi for the software, sensors and know-how, and then were just going to close all the stores,' that's going to be a big issue."
Gremore said he expects a more-detailed product strategy after Nissan completes its due diligence on the company, specifically related to the fuel-economy testing.
While Nissan is still in the "preliminary stages" of identifying opportunities for cooperation, Chief Financial Officer Joseph Peter told analysts that he'd be "very disappointed" if the company were unable to return 20 percent on the acquisition over a period of a few years. As to whether any cooperation would affect U.S. strategy, 'it is premature for us to discuss the impact on the North American market," Josh Clifton, a spokesman for Nissan, said in an e-mail.
'Sky's The Limit'
"Once plans start to take shape and as they pertain to the U.S. market, we at Mitsubishi Motors North America will endeavor to communicate those plans to our employees, our dealers, and to the press," said spokesman Alex Fedorak. "For now we continue to operate as we always have. There are no changes to how we function, collaborate, market or service our vehicles."
Emboldened by Nissan's interest, Gremore sees a completely different future for his dealership.
"Two days ago I had a five-year product plan that consisted of one new product, more or less -- a few face-lifts, a few body-style changes, but really only one new product," he said Friday. "Today, for my product plan, the sky is the limit."
Before it's here, it's on the Bloomberg Terminal.
LEARN MORE