Japan's Largest Bank Mitsubishi UFJ Sees Profit Falling 11% Amid Negative Rates
CEO says 'severe environment' to continue under BOJ's policy

Net income declined 8% last year as credit costs swelled
Mitsubishi UFJ Financial Group Inc. sees full-year profit falling 11 percent as negative interest rates squeeze loan profitability and bad-loan costs increase.
Japan's largest bank is targeting net income of 850 billion yen ($7.8 billion) in the year ending March 2017, it said in a statement Monday. That is lower than the 982 billion-yen average estimate of nine analysts surveyed by Bloomberg. Profit fell 8 percent to 951.4 billion yen last fiscal year, said Tokyo-based MUFG, which also announced plans to buy back shares.
Chief Executive Officer Nobuyuki Hirano has been among the biggest critics of the Bank of Japan's negative-rate policy, saying last month that it has caused anxiety among households and companies and will weaken lenders by narrowing net interest margins that are already among the world's lowest. MUFG's outlook is also hampered by the risk of soured loans to the energy industry even as oil prices recover from a two-year rout.
"The severe environment with ultra-low interest rates is continuing under the negative interest-rate policy,'' Hirano, 64, said at a briefing in Tokyo. "Credit costs rose, both for specific customers and in the energy sector.''
The results cap off an earnings season that saw Japan's three biggest lenders -- MUFG, Sumitomo Mitsui Financial Group Inc. and Mizuho Financial Group Inc. -- project a combined 2.15 trillion yen in profit in the year ending March, 5.2 percent lower than last year.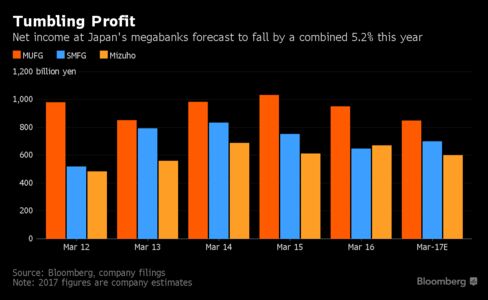 Analysts had expected MUFG's profit last fiscal year to be 1.03 trillion yen, close to a record achieved a year earlier. The drop was driven by an increase in credit allowances for certain clients and a decline in lending income, the results showed.
Gains in the yen and a smaller contribution from the bank's investment in Morgan Stanley were also factors, Hirano said. The investment-banking business may slow this year, another reason for the lower profit projection, he added.
Net interest income, or revenue from lending minus payments on deposits, fell 3 percent in the year ended March. Credit costs, a category that includes provisions for bad debts, climbed to 255.1 billion yen from 161.6 billion yen a year earlier. The ratio of risk-monitored loans climbed for the first time in five years to 1.45 percent from 1.4 percent a year earlier, it said in a presentation.
Negative interest rates will have a 100 billion-yen impact on this fiscal year's profit, Hirano said. That includes the effect on lending, derivatives trading and an expected drop in securities transactions by individuals, he said.
Negative Rates
Japan's central bank began charging lenders 0.1 percent for some of their excess reserves in February to spur lending and help revive the economy and inflation. The move sent loan rates and bond yields plunging, reducing banks' interest income while doing little to fuel credit growth. Average interest rates on new loans fell to a record 0.793 percent in February, BOJ figures show.
The BOJ could deepen negative rates to as low as minus 0.7 percent, according to Ryutaro Kono, chief Japan economist at BNP Paribas SA in Tokyo. Banks will "have no option but to keep voicing their opposition'' to Governor Haruhiko Kuroda's policy, Kono said before MUFG's results were published.
MUFG will buy back up to 1.67 percent of its stock for as much as 100 billion yen, it said. Shares of MUFG closed 0.3 percent lower before the results, extending this year's decline to 34 percent. It is now trading at about 0.45 times the book value of its assets. The Topix Banks Index has slumped 32 percent this year, the worst performance among 33 industry groups on the nation's benchmark stock gauge.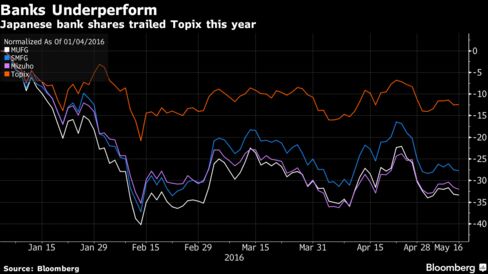 Mizuho last week projected profit will decline 11 percent to a four-year low. Mizuho is forecasting profit will slide to 600 billion yen this fiscal year. Net income rose 9.6 percent to 670.9 billion yen last year, the company said Friday.
Sumitomo Mitsui is the only one of Japan's three largest lenders to forecast higher profit in the current fiscal year -- and only because earnings unexpectedly fell in the year ended March. Net income will rise 8.2 percent to 700 billion yen after declining 14 percent to 646.7 billion yen last year, it said Friday.
MUFG said its total credit exposure to the energy sector was 10.4 trillion yen, of which 37 percent is in the Americas. Loan quality mainly deteriorated in the upstream part of the oil and gas industry such as exploration, it said. Total nonperforming loans in the sector reached 120 billion yen.
Before it's here, it's on the Bloomberg Terminal.
LEARN MORE