Marcos Dynasty Suffers Setback in Philippine Election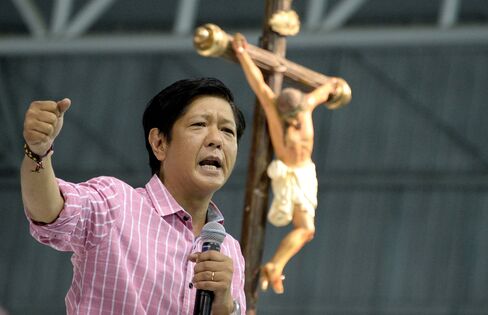 Aquino-backed Robredo puts brakes on revival of Marcos Brand

Robredo win consolation prize after Duterte Elected President
The likely defeat of Ferdinand Marcos Jr. in the race for Philippine vice president is a setback for efforts to expand the family's political influence 30 years after the fall of his father's dictatorship.
Marcos trails congresswoman Leni Robredo, the vice presidential candidate backed by outgoing President Benigno Aquino, by more than 200,000 votes with more than 96 percent of the ballots counted and less than 1 million votes left to be counted, The Philippine Daily Inquirer reported, citing the head of the non-partisan election oversight organization monitoring the count. Marcos has refused to concede.
The trust voters "bestowed in me also carries with it the responsibility to
protect each and every vote cast for me. Rest assured, I will do everything
in my power to ensure that in the end the true will of the Filipino people
will prevail in this election," Marcos said in a statement Tuesday.
A victory by Marcos, who won a Senate seat in 2010, would have been the biggest political victory for the family since his return from exile in 1991 and provided a springboard to contest the presidency in 2022. His defeat also offers a consolation prize for supporters of Aquino after the candidate he endorsed in the presidential race was handily defeated by Rodrigo Duterte, the firebrand mayor of Davao City.
Marcos and his supporters are unlikely to accept defeat given the "razor-thin margin," said Eduardo Araral, vice-dean at the Lee Kuan Yew School of Public Policy in Singapore. "The funny thing about Marcos is he accepted Duterte's win and now he raises questions about his votes. You can conclude that he's just a sour loser."
Marcos's bid for the vice-presidency was central to efforts to revive the family's political brand. His mother Imelda, who boasted a collection of thousands of shoes that became a symbol of the excess of her husband's dictatorship, won re-election as congresswoman of their hometown of Ilocos Norte province, while sister Imee is serving her third term as governor.
Vote Tampering
Marcos has called on the Commission on Elections to investigate what he said was possible vote tampering. Technical glitches forced more than 50 polling stations to re-hold their ballot on Saturday, with counting continuing this week. The commission has rejected allegations of irregularities.
In the Philippines, the vice president and president are elected separately and often hail from opposing political forces. While vice presidents in the Philippines have little actual power, they remain first in line for the top job in a country where presidents serve a single six-year term and where coup attempts and more peaceful efforts to oust leaders have been common.
"Robredo's victory is one less loser in Aquino's Liberal Party so it's better for them in that sense," said Reynald Trillana, executive director at the Philippine Center for Civic Education and Democracy in Manila. "But politicians including senators and congressmen will always gravitate toward the presidential winner. Robredo can't stop the exodus of members from her party."
'Voice of Reason'
Robredo would excel in local government and social welfare in case Duterte decides to give her a cabinet post, Trillana said. If not, "Robredo can be the voice of reason and as the second-highest official of the land, she can lend her voice in opposition to any excesses in the exercise of executive power," he said.
Aquino's mother Cory, who came to power after the overthrow of Marcos, faced various coup attempts and Aquino's father, an exiled opposition leader, was murdered by the military upon his return in 1983. In 2001, a popular uprising booted Joseph Estrada from office after graft allegations, propelling vice president Gloria Macapagal Arroyo to the presidency.
"The presidency is always a dangerous job and there are always threats to his life," Araral said. "The vice president is just a heart beat away from the presidency and in that sense it's a very important position."
Chain Smoker
Robredo will also be serving under a 71-year-old chain smoking self-confessed womanizer, who publicly raised doubts about whether he would be able to serve a full term because of his age and health.
"Duterte is 71 years old, a heavy smoker and may have some health issues, and there are some people who don't like him," Araral said.
Duterte tapped voter frustrations over crime and inefficient public services to win the presidency, despite Aquino delivering economic growth that averaged more than 6 percent. As mayor of Davao City on the southern island of Mindanao for two decades, he earned the nicknames "Duterte Harry" and "The Punisher," and his campaign pledge to kill 100,000 criminals and feed their bodies to the fish in Manila Bay appealed to crime-weary Filipinos.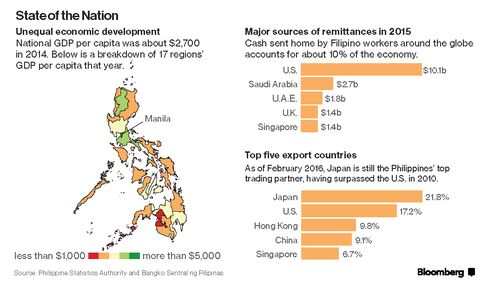 For more, read: The Philippines Prospers as Its Middle Class Seethes
Duterte won with about 39 percent of the vote. Aquino's former interior minister and Robredo's running-mate Mar Roxas and Senator Grace Poe, who backed Aquino's coalition in the legislature, each gained more than 20 percent after rejecting Aquino's appeals for them to combine forces to stop Duterte. A third mainstream candidate, Vice President Jejomar Binay won about 13 percent.
Thrust into Politics
Robredo, 52, fared better than her running mate, Roxas, helped by a compelling biography. She was thrust into politics after the death of her husband Jesse, who was serving as Aquino's interior minister when he was killed in a helicopter crash in 2012. Jesse Robredo was credited with transforming the sleepy town of Naga into one of the country's most vibrant cities. The year after his death, Leni Robredo won a landslide victory over a more experienced rival to become congresswoman of her native Camarines Sur, south of Manila.
Before entering politics, Robredo was a human rights lawyer who in 2007 helped a group of farmers from the Mindanao region regain ownership of 144 hectares of land that their ancestors had been tilling for decades.
Before it's here, it's on the Bloomberg Terminal.
LEARN MORE