Goldman Sees U.S. Oil at $50 as Output Surplus Melts Away: Chart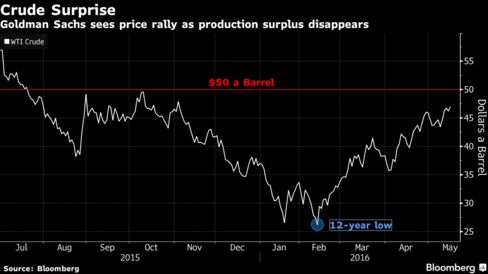 The price of West Texas Intermediate crude will average $50 in the second half of the year, rising from just $33.63 in the first quarter, because the production surplus has disappeared much more quickly than expected, according to Goldman Sachs Group Inc. Unanticipated disruptions, such as wildfires in Canada and a militant resurgence in Nigeria, mean demand is likely to exceed output this month, compared with a 1.4 million-barrel-a-day surplus last quarter, it said. The rally will be limited by abundant oil stockpiles and the bank predicts prices won't reach $60 until the end of 2017.
Before it's here, it's on the Bloomberg Terminal.
LEARN MORE