China Helps Balance Oil as Aging Fields Lag Rising Refiners
Output falls most in more than four years; refining at record

China reaching 'peak oil' as investment cut back: Bernstein
China's tumbling crude production amid record-high demand from its oil refineries is helping tighten a global market recovering from a glut.
Output in April from the world's second-biggest consumer fell by the most since November 2011 to the lowest in 14 months. Meanwhile, the country's refineries processed a record 10.93 million barrels a day of oil. The production declines "will help rebalance the market and will be positive for prices," according to Neil Beveridge, a Hong Kong-based analyst at Sanford C. Bernstein & Co.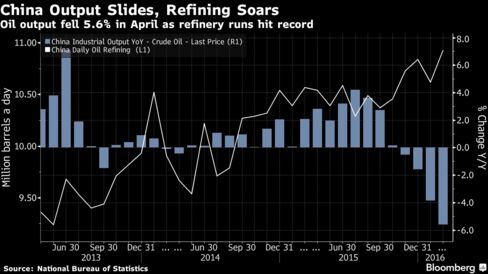 "We expect faster-than-expected declines, which will increase imports and heighten long-term energy-security concerns," Beveridge said in an e-mail Monday. "The cuts in capital investment are now having a significant impact on production as China reaches 'peak oil' production.''
The nation continues to increase imports to meet record refining demand. China's inbound crude shipments in April rose 3.2 percent from the previous month, and near the record reached in February.
Brent crude, the global benchmark, is down more than 50 percent in the past two years amid a global glut. Prices were up 2.6 percent at $49.08 a barrel as of 12:28 p.m. in New York.
"The trend will likely worsen in the months ahead amidst cost-cutting initiatives," said Gordon Kwan, head of Asia oil and gas research at Nomura Holdings Inc. in Hong Kong. "China's production decline, together with that of the U.S. shale patch, will help to rebalance the oil market toward late 2016, as global demand continues to hit all-time highs."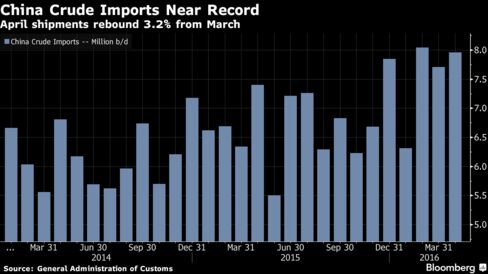 High costs, reduced capital expenditure and declining rates in mature fields that have supported China's production for decades are conspiring to pull output down, Standard Chartered Plc said in a report earlier this month. PetroChina Co., the country's biggest producer, sees oil and gas output falling for the first time in 17 years as it shuts fields that have "no hope" of profits, President Wang Dongjin said in March.
China's production decline is mostly driven by PetroChina Co.'s flagship Daqing field and China Petrochemical Corp.'s mature oil fields such as Shengli, Kwan said. Output from Daqing will fall 1.5 million metric tons this year, Su Jun, general manager at the production and operations department, said in March. That's equivalent to about 30,000 barrels a day, or roughly a 4 percent decline from the field's 756,000 barrels a day of output in 2015, which the company said in regulatory a filing accounted for about 28 percent of its global output last year.
"China has been over-investing in oil fields which are either mature or marginal," Beveridge said.
— With assistance by Sarah Chen, Jing Yang, and Ramsey Al-Rikabi
Before it's here, it's on the Bloomberg Terminal.
LEARN MORE