Suspect intended to use drone to disrupt trip, Xinhua says

Thousands of police to secure Zhang Dejiang amid protest fears
China's detention of a Hong Kong resident accused of buying a consumer-style drone shows the heightened anxiety among authorities on both sides of the border as the former British colony prepares for Tuesday's visit by a top Communist Party leader. 
QuickTake Domesticating Drones
The suspect, who was detained in the adjacent mainland city of Shenzhen, intended to use the drone to disrupt a three-day visit by National People's Congress Chairman Zhang Dejiang, the ruling Communist Party's No. 3 official, the official Xinhua News Agency said Sunday, citing Shenzhen police. The suspect, who was detained in an investigation into cross-border identity-card peddling, was described as a 56-year-old surnamed Guo and a long-term sponsor of members of Hong Kong's political opposition, Xinhua said.
Zhang, chairman of the National People's Congress, is the highest-ranking Chinese official to visit Hong Kong since former President Hu Jintao's trip in 2012, which prompted clashes with pro-democracy protesters. Tensions over Hong Kong's future under Chinese rule have been building in the city and police were said to be deploying as many as 6,000 officers during Zhang's visit, twice as many as were used to secure Hu four years ago.
"It's both an anti-terrorism and security operation." Cheng Yiu-mo, assistant commissioner of police for operations, said at a briefing on Sunday.
Drone Purchase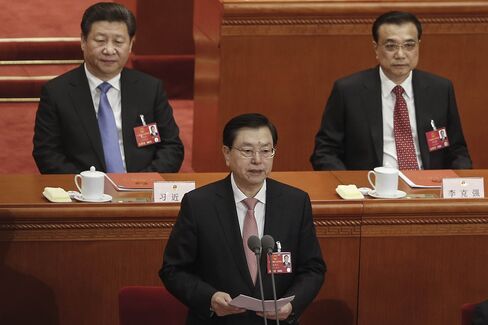 Zhang arrives on Tuesday and is scheduled to speak at a conference on China's plan to revive the ancient Silk Road trade route. Police are setting up a "security zone" that covers the area around the Hong Kong Convention and Exhibition Center, where the forum is being held. Designated protest zones are at least 100 feet away from the venue.
The Shenzhen police said Guo, who's last name is generally spelled as Kwok in Hong Kong, had purchased the drone on behalf of a pro-democracy activist surnamed Tsang, Xinhua reported.
Tsang Kin-shing, a former Hong Kong lawmaker and a member of the League of Social Democrats, confirmed asking one of the five people detained in Shenzhen to buy the remote-controlled device, the South China Morning Post reported Monday. He told the paper he planned to use the drone in protests and during Zhang's visit. Tsang didn't responded to repeated calls to his mobile phone and office.
Cheng declined to say whether police had received any credible security threats for Zhang's visit. Hong Kong police confirmed their Shenzhen counterparts notified them of the operation surrounding Guo's detention.
"We would do everything we can to stop any suspicious objects from entering the security zones," Cheng said.
Before it's here, it's on the Bloomberg Terminal.
LEARN MORE